Gibraltar -29 September

Dearloves
Thu 29 Sep 2005 22:03
Today we went up "the Rock" by cable car and saw the monkeys:
Unfortunately Pip was rather traumatised by them - she was carrying a packet of crisps and one of the larger monkeys came up to her very aggressively and grabbed her leg. She screamed and he took the crisps. They were jumping on the backs of some people and she was not keen on this idea at all!
However, Alice thought they were lovely, especially the babies.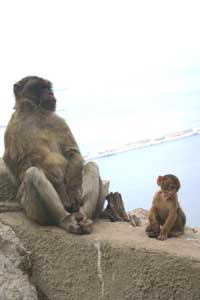 The view wasn't too great, as the cloud was rather low. The picture below was taken from beneath the cloud line - the marina where Keoma is moored is in the centre of the page.
We walked along the rock to St Michael's Caves, which are huge and contain hundreds of stalectites and stalagmites. Some people believe that they are part of a massive underground labyrinth leading to Africa, which might explain how the monkeys got on the rock in the first place.
We have a few more jobs to do in Gib and expect to leave here at crack of dawn on Saturday, for our sail to the Canary Islands.
---