Passage to La Gomera - 22 October

Dearloves
Wed 26 Oct 2005 11:30
We left Las Palmas at 3am yesterday, bound for La Gomera, which is the island the other side of Tenerife, around 100 miles away. It was a brightly coloured dawn: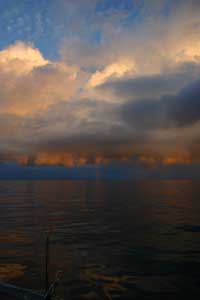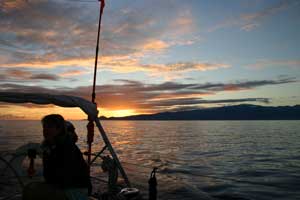 The northern tip of Gran Canaria is in the background
We were amazed that we could see the lights of Tenerife from 42 miles away! We had a lovely beam reach, heading south-east between Gran Canaria and Tenerife, with around 10 knots of wind, and spinnaker up. We saw spotted dolphins: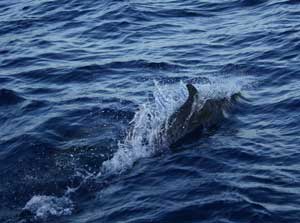 Atlantic Spotted Dolphins
Rounding the southern tip of Tenerife the wind went easterly and we gybed, then held the kite until around 5 miles off La Gomera.
Looking Aft
We saw bottlenosed dolphins, including two mothers each with young. I couldn't get a picture of the small ones because they swim under the mothers so that they can keep up with the pack by "slipstreaming". We saw them swim under the bow of the boat but a picture was impossible because the light was not good.
Bottlenose Dolphin
The wind dropped and then came back with avengance as we met the north-westerly land breeze coming off the island, making it a beat for the rest of the way.
La Gomera, dome shaped, from 10 miles away
---