Mustique - 4 January 2006

Dearloves
Thu 5 Jan 2006 19:43
Yesterday we sailed across from Bequia, in convoy with Whitehaven. It was only around 10 miles and took less than 2 hours. However, it was a beat, which we have not had too much of recently, and the wind speed was around 30 knots, so we weren't hanging around. We had two reefs in the main and the staysail (they call it "the yankee" on Whitehaven) up.
We arrived to find a beautiful turquoise bay with plenty of free moorings, of which we picked up one.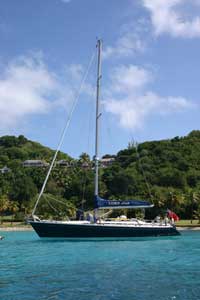 Today we did school and snorkelled the reef, before heading off for a walk and swim with our friends from Whitehaven and Blase.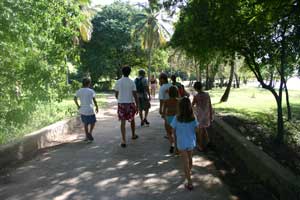 We discovered the Ollie and Charlie were wearing the same Costa Rica T shirts - although looking at the fit, they should have swapped: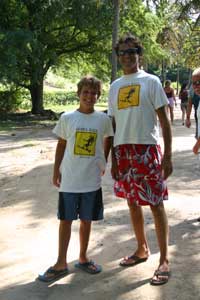 "Pura Vida Mon"
We found a fantastic beach, which was deserted. We swam and bodysurfed here for most of the afternoon.
Lagoon Bay
In the evening we went to the barbeque and jump-up at Basil's Bar, which was a fantastic experience. They cooked a whole pig (for 13 hours!) on the BBQ and the band were great. We even forgave them that they tried to add $800 to our bill. In fact this was Tommy Hilfiger's order, as he joined our table halfway through the evening. We were disappointed to not see Mick Jagger, Bryan Adams, Shania Twain or (even) Martha Stewart during the evening, as they are all here (according to the harbour master), however we did see Nick Mason from Pink Floyd.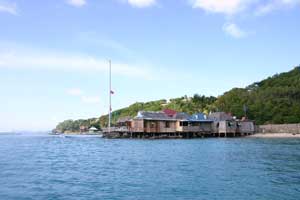 Basil's Bar
All in all we think Mustique is a lovely place - very laid back and not pushy like the other islands we have been to so far. There is the sound of lawn mowers everywhere and the island is very well groomed. The name of the boat below (moored near us) just about sums it up - "Hi-Tenshun"! One small "however" is that the anchorage is quite rolly.
Alice has been learning to play the conch shell:
And finally, Pip has a new tooth coming through (top right):
---