Passage to Tenerife - 2 November

Dearloves
Thu 3 Nov 2005 12:41
Yesterday we left La Gomera. It was lunchtime by the time we got away as there were a lot of people waiting at the fuel berth, and although we obviously hoped to sail, if there was no wind we might have needed to motor some of the 65 miles to Santa Cruz in the North of Tenerife, so we wanted a full tank of diesel.
Goodbye La Gomera
We saw a pod of short finned pilot whales when we were just off the southern tip of Tenerife. Some were mothers with young.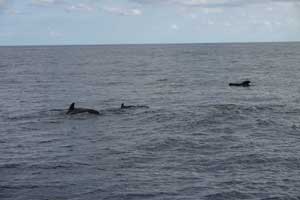 We were able to get really close as the pictures show. These pictures are not zoomed in.
We did have wind, which was coming from the North East, so it was a beat and we arrived in Santa Cruz at 4am this morning. Then we were asked to tie up the harbour wall (the "Reception Area") rather than a pontoon, and with a tidal rise and fall of 2 metres, Charlie and I had to get up several times to check that our lines had not become too tight on the falling tide. So it was rather a disrupted night!
We have just moved to a pontoon. It was rather windy and the space was a bit tight, but we had several kind people helping us, so managed to get the boat in without damage. We expect to be here until Sunday, when we will sail the last 42 miles back to Las Palmas, Gran Canaria.
---