Las Palmas - 14 November

Dearloves
Mon 14 Nov 2005 23:56
Many of our provisions were delivered today, and we spent most of the morning finding places to stow them on the boat. Charlie unscrewed the floorboards and found a lot of space under the floor:
Here are some of the other supplies:
It is quite amazing how much food 6 people are supposed to eat over 20 days, bearing in mind that we will be quite physically active during that time. ARC have laid on several seminars, of which I have attended the provisioning seminar. Charlie was surprised that I needed any instruction when it came to shopping. Anyhow, one of the recommendations is that treats are split into 3 sealed bags, so that there is something to look forward to each week when the bag is opened and there are your faviourite biscuits/crips/sweets etc, which is what I have done.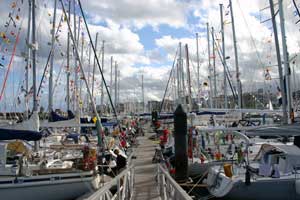 Pontoon 17, Las Palmas
Here Alice and Pip playing with their friends in one of the few free areas of the boat (the forepeak) - the rest of the boat was covered with boxes and packets while we unloaded. There are lots of cushions in here from the saloon, which have been removed temporarily while the provisions are stowed:
Boats in the Marina
---