St Kitts - 25 March

Dearloves
Mon 27 Mar 2006 19:07
Today we went on a taxi tour of St Kitts. The island has one main town, being Bassterre, and we are moored in the marina there.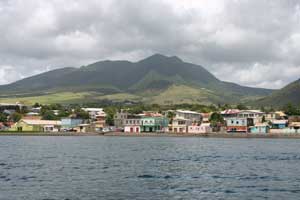 View of Bassterre from the sea
The island is quite hilly, and at the northern end the cone of a dead volcano has provided a perfect site for the positioning for one of England's strategic army fortifications - Brimstone Hill Fortress. Built by slave labour, it is an impressive construction.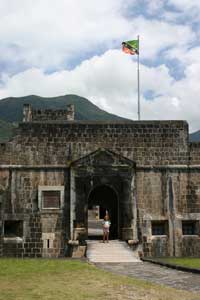 Above is a picture of Pip standing on the drawbridge at the entrance to the citadel of the Brimstone Hill Fortress. The Flag flying is now the St Kitts and Nevis flag - previously the Union Flag flew here.
The view from the top demonstrated what a strategic lookout the fortess provided: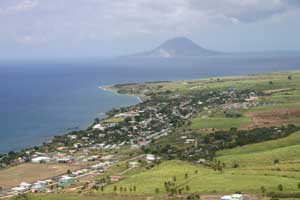 View over North St Kitts and across to Statia
We also visited the gallery of Kate Spencer, found down a long drive lined with sugar cane fields. The gallery is set in beautiful lawned gardens and to the side is a shed containing a half finished replica 12 metre, which Charlie chatted to Kate's husband about.
Alice's favourite painting from the gallery was:
On our return to the marina, Charlie serviced Keoma's engine while the children did their schoolwork. We were invited for dinner on Wild Alliance - Alice and Pip enjoyed seeing the "wild boys" again and they spent ages fishing off the pontoons and messing about in our dinghy.
---