Cala Arsenau and Isla Cabrera - 19 September

Dearloves
Mon 19 Sep 2005 21:56
We had a lovely day out with the Bullimores at Cala Arsenau last Thursday (15th):
Becky and Pip (Keoma sailing in background) looking windswept!
Jemma and Sam
Alice B in Sam's boat
This also resulted in some pictures of Keoma sailing (as requested by Jon and Spunge) (taken by Alice B from Simon's boat). Keoma is still missing a mainsail batten (the longest one) which we will collect from Palma on Wednesday (together with a spare for the ARC).
This is mid-tack
Anchoring in Cala Arsenau
Another beautiful cala, where we rafted up and swam from the back of the boats, and had lunch.
This morning we headed to an island called Cabrera, which is a national park and also a military zone (we had to obtain permission to visit in advance). It is situated to the south of Mallorca, in a group of several smaller islands which are about 10 miles away from the mainland.
View of Anchorage taken from Castle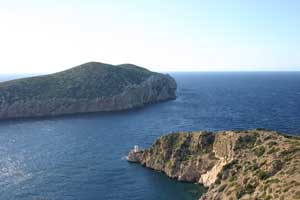 Entrance to Anchorage
View of Castle from Anchorage
On Roof of Castle
View of the other islands and Mallorca in background
The Way Down from the Roof of the Castle
Alice up close
Pip has lost another tooth! We can already see new ones coming through, which is comforting!
Mastic Tree
Wild Lupin
Pink clouds (like candyfloss!) this evening
We plan to stay at Cabrera tomorrow night also, then head to Palma for some essential supplies (there are some good chandlers there). Then we will go on to Ibiza for a few days; then the four day sail to Gibraltar, aiming to arrive there during the first week of October.
---