Sardinia

Dearloves
Thu 18 Aug 2005 14:51
Yesterday we visited an ancient village in the mountains of central Sardinia. It was a challenging walk - took over 2 hours each way and in many places was very steep. The children did really well; they were determined to get there and in particular loved the rock climbing.
The village is called Tiscali and is at least 3000 years old. It is built inside a huge cave (partially collapsed) and was discovered in the early 20th century. We drove there in our hire car - a Fiat Panda which we have given some serious abuse (taken off road etc).
View from road to Tiscali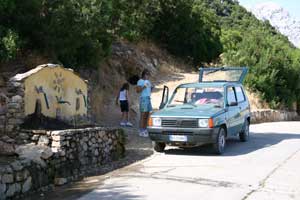 Panda by drinking fountain on way to Tiscali
Alice and Pip at start of walk - with cairn they made
Passing through a narrow chasm
Limestone ledge along side of mountain
Valley view
J and P taking a break
Entrance to Tiscali Cave
Inside Tiscali Cave
Inside one of ancient houses in Tiscali Cave
Alice going back through the chasm
The walk back
Lizard taking a drink
Lizard looking at me
We have also explored a lot of the north east corner of Sardinia - been to several beaches and the aqua park.
Tomorrow we will leave Olbia (in Keoma) and head for the Maddalena Islands, which are renowned for being very beautiful with white sand and turquoise waters.
View of Golfo di Cugnan
Alice chilling out at a bar in Porto Cervo
Charlie at Aquadream
Charlie and Pip emerging from "the black hole"
Pip on a rock
---