Grenada - 6 February

Dearloves
Tue 7 Feb 2006 15:38
We arranged a tour with Cat Eye for David and Bridget's first day with us. Rob, Mike and John from Whitehaven came along too. We swam in a waterfall, had a great local lunch and then visited the chocolate and rum factories.
Our Group at the rum factory
The rum factory still uses traditional methods for the manufacture of the rum. The sugar cane, some of which is grown on the estate, is crushed by power generated by a water wheel dating back to 1785.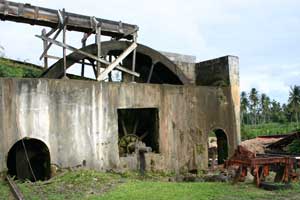 Rum factory water wheel
The streets of each town were decorated for Independence Day (7 February). Every person we passed was wearing red, gold and green, and the children looked especially amazing in their national colours.
School Girls with Cat Eye
Cat Eye gave us an explanation of the local spices as well as plying the adults with shots of very strong rum. He peeled a fresh nutmeg and explained it contents, saying "dere's a lady in the boat wears a red petticoat".
Cat Eye's Talk
Alice in the minibus
---