Mustique - 6 January

Dearloves
Mon 9 Jan 2006 13:22
Mustique was absolutely beautiful, but we were only permitted a mooring for three nights, so this morning (after snorkeling) we left to go to Tobago Cays.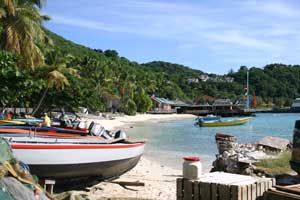 Fishing boats on Mustique
Here are some photos of Keoma under sail (although with a reefed mainsail and genoa). The island in the background is Canouan.
It took around 3 hours to sail to Tobago Cays. The next update will include some photos....Definitely one of the world's most beautiful places.
---