Guadeloupe - 14 March

Dearloves
Wed 15 Mar 2006 08:45
We had a very nice sail back to Guadeloupe, from Antigua, yesterday. It was sunny, and there was the right amount of wind to carry full sail on a beam reach. The waves were large enough for the occasional surf, meaning that we covered the distance of 43 miles in five hours flat. At one point we got 13.2 knots of speed out of the boat, wave assisted, and we were often over 10 knots.
We anchored in Deshaies, in the north of the western coast of Guadeloupe. It is a beautiful anchorage:
Although last night was very still, during the night we had some katabatic winds from the mountains around the bay and the wind gradually built to a crescendo of 32 knots this morning, during gusts. We had to re-think our planned trip to the botanic gardens and decided that Charlie should stay on the boat in case the wind increased further. That gave him a chance to work on the water maker and generator (the latter has been identified as the cause of an annoying minor leak).
The botanic gardens were very theatrical, with many different kinds of orchid and hibiscus.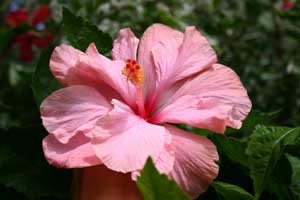 There were waterfalls, ponds and streams (where Alice and Pip played Pooh Sticks), parrots and flamingos.
Pond with Koi Carp
When we returned to the boat Charlie had the watermaker pumping out fresh water, which was great news. The leak was solved, too. While we ate our lunch we heard two boats taking over the VHF radio and could tell they were fairly close by. It was two old friends - Blase and Tamarisk - and they were headed (in very rough and windy conditions) for Deshaies. This was great news and we radioed them up to say we were looking forward to seeing them later on. In the evening the wind dropped and we all enjoyed a peaceful sundowner.
---