Grenada - 19 January

Dearloves
Fri 20 Jan 2006 17:25
Today is the half way point in our travels - we have been going for six months exactly. We have covered over 6000 miles and have sailed from Italy to Grenada.
Yesterday we sailed from Tyrrel Bay, Carriacou, to Prickly Bay on the south coast of Grenada. It was a journey of around 38 miles and took us six hours. We sailed in convoy with Whitehaven, which works well for us because they (a Bavaria 50) seem to travel at the same speed. It was a bit sad because this was the last sail we will do with them, as from here their boat is heading to Aruba, before going through the Panama Canal and back to Australia. We will be travelling North again, up the chain of Caribbean islands, when we leave here in early February.
The sail to Prickly Bay was great - beautiful sunshine and sparkling sea, with a gentle swell coming in from behind the boat. We were downwind for most of the journey. We did have a rain squall half way between Carriacou and Grenada, for which we rolled away the genoa. The rain was so hard it was like having a shower, but it was warm so we didn't need any clothing other than our swimming things. Very refreshing but over too soon.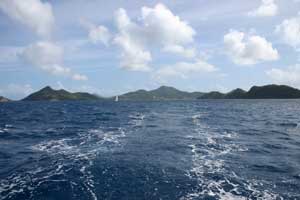 Leaving Tyrrel Bay, Carriacou
Charlie rigged a preventer on the boom to avoid accidental gybes: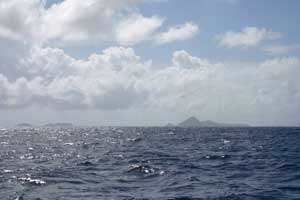 Volcanic Islands
These are the islands to the North of Grenada, which include a volcano which erupted in 1996 called "Kick 'Em Jenny". We were happy not to see any volcanic activity as we sailed past - we gave it a wide berth.
We arrived in Prickly Bay around 4.30pm. We had a glass of wine in the cockpit on arrival. Someone sailed through the anchorage on a laser with his two dogs on board:
Just taking the dogs out
This anchorage is very settled, as the prevailing wind and swell comes from the north east. Tomorrow we will tour the island.
---