Antigua - 12 May

Dearloves
Fri 12 May 2006 23:39
Last night we met up with Mike Hutchinson (old friend from Woodbridge) and he showed us Mystery, the 112 foot Swan that he is skipper of. He seemed very well and Charlie and he enjoyed reminiscing about Cadet sailing together. The boat is amazing; sheer luxury with the most amazing electronic gizmos, like a television that pops up from behind a bench seat, each cabin has surround sound and there is even a (marble) bath. Charlie was most envious of the engine room.
Pip and Alice sitting on Mystery's halyard winches
Today we sailed up to Nonsuch Bay - we have been here before but only in quite unsettled weather. The recent rain has made hills surrounding the bay a vivid green and the view was stunning with the bright yellow Sentry Plants now in bloom. These plants are imposing - very tall and they seem to like to grow along the skyline of the land, where their colour is a real contrast to the blue of the sky.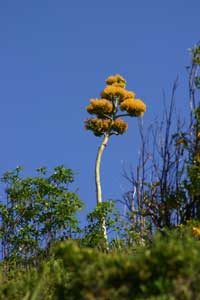 Sentry Plant
Nonsuch Bay itself has a number of reefs and the water varies in colour, as well as being crystal clear.
View from the boat
We had the beach on Green Island, on one side of the bay, to ourselves this afternoon - pretty idyllic.
Now we are back on board Keoma and are listening to rumbles of thunder over Antigua. It is very hot and muggy - the storms don't seem to clear the air. Lots of boats have left, headed for Bermuda, and we too will leave in a week or so. We are still hoping for a trip to Montserrat but with the wind currently in the south, it would make the anchorage there quite ashy, so we have put the trip on hold until we are confident we won't have hot ash burning holes in the sails!
---