Mustique - 21 February

Dearloves
Fri 24 Feb 2006 21:47
We had a couple of nights where sleep was difficult to come by (for the adults, not the children, who slept like logs) on Mustique. Squalls of wind whistled down from the hills around the bay and the mooring line snatched at the boat, making the line grind in the fairleads, while the mooring buoy banged against the side of the boat. However, it was worth it to revisit one of our favourite places in the Caribbean (so far). We went for a long walk with the Tim, Penny, Anna and Eddie, from Tamarisk, almost around the entire island. The Atlantic shore is quite wild and one beach had such undertow that swimming was banned.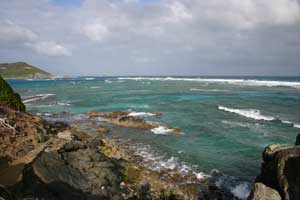 The Atlantic (East) Coast of Mustique
Macaroni Bay
Swimming is Strictly Forbidden - Strong Undertow Treacherous Currents
Although the children are in their swimming things, they did not actually go in the sea (reassurance for the grandparents).
Back on the other side of the island in Britannia Bay, we stopped for a sundowner in Basil's Bar and all was tranquil.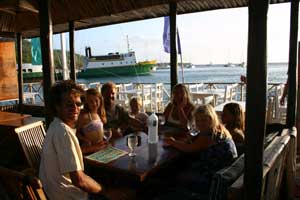 Basil's Bar - with boats moored behind
View from Basil's, of the beach in Britannia Bay with the fishmarket to the left.
As I write we are in Rodney Bay, St Lucia - an update will follow shortly.
---