St Eustatius - 27 March

Dearloves
Wed 29 Mar 2006 17:02
Sailing towards the island of St Eustatius ("Statia" to the locals) we were joined by a group of dolphins swimming at the bow. They did the usual showing off - leaping and jostling for position, squeaking to each other.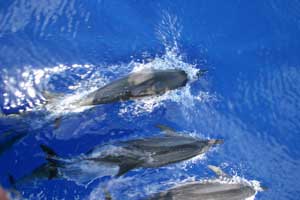 Dolphins taken from the bow, directly above
The water here is beautifully clear - we can clearly see the sea bed beneath our boat, even though we are moored in 4.5 metres of water. Small shells on the bottom are visible from the boat. It is a popular place for diving and we can see why. Not only is the water clear, but there are many wrecks. Statia was the trade capital of the Caribbean in the 18th century - being Dutch it was neutral and there were no taxes imposed on sales. It is said that there would have been between 100 and 200 sailing ships at anchor in the bay here, at that time, and there were also brick docks built along the sea wall which are now in ruins.
The architecture looks to us to have a Dutch influence, with lots of colourful painted shutters, and they use the Antilles Florin for currency. We didn't know about this, and had assumed that the Eastern Caribbean Dollar would be the local money. It was only after we have ordered our drinks in a local bar (and swigged some of it thirstily down) that we found we couldn't pay for them. In typical Statia style, we were pointed in the direction of the local cash machine and they were quite happy for us to come back later and pay.
Dutch House
The island is still a tax free shopping area, so we took advantage and stocked up on beer. The local supermarket stocked Amstel as well as Heineken and the local brews. There was plenty of Gouda and Edam for sale. However, a man came into the shop and asked for a "big sausage" in a heavy Dutch accent. The check-out lady barely contained her giggles and told him they did not have any at present.
Today we walked up to the rim of the volcano, which took a couple of hours and is around 2000 feet above sea level. We were warned of killer bees that had killed a dog the previous week and had badly stung its owner. The first part of the walk was through the town, Oranjestad, and then through a path lined with high flowering bushes on either side, (with lots of bees!)
Bee Alley
The view from the top of the volcano, looking in to the crater, was stunning:
We heard a rockfall while we were at the top, but decided to continue down into the crater. We ate our picnic under a large banyan tree which had an amazing double trunk. Above we could hear the continuous droaning noise of swarming bees, which made our lunch not so relaxing!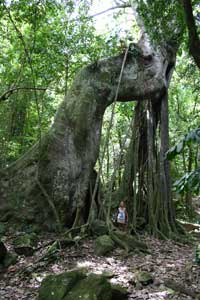 We saw many snakes, lizards, butterflies and feral chickens. It seemed strange to be in deepest woodland and have chickens squalking about.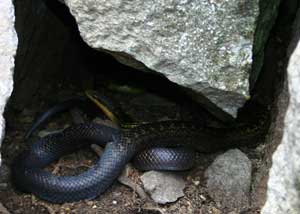 We thought Statia a lovely island. All the locals are friendly - everyone you pass says hello and waves from their cars. The hiking is great, there are plenty of nature trails and lots of bars to recover in afterwards. The only slight detraction is the anchorage, which we have found very rolly. We have put out a stern anchor to face the boat into the swell, but are still moving around a lot. Anyhow, we will leave tomorrow morning to sail to the British Virgin Islands. The original plan was to go to Saba, however we are told that it is the place to visit only in flat calm weather, as it is even more rolly than Statia and landing there can be difficult. So we will sail past Saba tomorrow and hopefully get to visit upon our return south after a couple of weeks in the BVIs.
---