Grenada - 28 January

Dearloves
Tue 31 Jan 2006 20:12
We went to Grand Anse beach on Grenada to watch the work boat racing. These are boats which are all owned and sailed by local people, and as part of the annual Grenada Sailing Festival regatta, there are nine races for them, held in heats of five or six boats each, spread over two days.
The boats are very heavy and the launch requires plenty of muscle power:
The boats are held in the surf for the start, which is a "le Mans" style start:
Le Mans start
The boats' sails are often second hand. It may not be visible from this but if you look closely at the turquoise boat in the foreground of the picture immediately above, a single star can be seen at the top of her mainsail, which has been cut down to fit the boat. Could it have been a Stella sail in a former life?
We met up with lots of people from boats we knew at the beach, which made it quite an event.
Two of the workboats capsized (a slow "death roll" downwind being the cause in each case). This was quite problematic because once they were over they sank, having no extra buoyancy. Luckily the organisers had a rescue boat out there in no time, to tow them back into the shore.
The finish is very exciting as it requires one person from each boat to jump out and run over the finish line, just as the boat is beached. Twice we saw two boats coming in together, fighting it out for first place and sometimes the runner would jump too early and then almost be mowed down by the boat, with a second runner jumping from the bow when the boat was truely in the shallows. Needless to say there was lots of shouting and encouragement from the spectators, fuelled by large amounts of rum.
The event had a stage with music, bars, food and market stalls. At one point they were giving out umbrellas, and the compere asked for "anyone from overseas" to come up onto the stage to win an umbrella. The first person onto the stage was Alice, closely followed by Eddie, Anna and Pip. Alice happily chatted away over the microphone, and came back with an umbrella. One of Charlie's list of least useful things to have on a boat (ranking with a lawnmower) particularly in the Caribbean! Needless to say it has gone into deep storage on Keoma.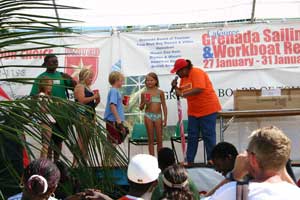 Alice on the mike
We are now in Tobago, around 75 miles south east of Grenada. Another update will follow...
---