Bequia - 3 January 2006

Dearloves
Thu 5 Jan 2006 19:42
Yesterday we decided to walk over to Friendship Bay, on the other side of the hill to where our boat is. We started from Princess Margaret's beach, where there was a very serious cricket match in progress. The people fielding the wet boundary had a tough job.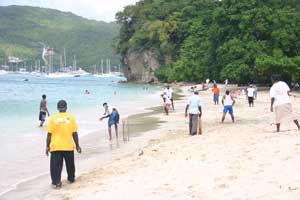 Friendship Bay is beautiful and deserted:
The waves were perfect for bodysurfing and we all spent several hours at it. If you look closely at the below, there are people in the wave!
We managed to find a beach bar there too, which had swings instead of seats.
Alice at the bar
---