Falmouth - 26 July

Dearloves
Wed 26 Jul 2006 22:49
Having arrived in Falmouth in the early hours of yesterday morning, we spent most of yesterday doing jobs on and around the boat (laundry, provisioning, cleaning and minor repairs), the children riding their scooters around the pontoons at Port Pendennis Marina. In the afternoon we all had a look around a RNLI lifeboat. It was very interesting and the children enjoyed sitting in the driver's seat.
Interestingly, our landfall in the British Isles has not necessitated customs clearance (either here or in the Scillies) since we did it in the Azores - an EU country.
Today we were collected by our friends Jon and Viv Taylor, previously from Wild Alliance, who took us to their house near Newquay, where we spent a great day with them. As ever the children got on famously and we walked across fields which seemed strangely foreign to us - they were yellow!
Later we walked to the nearby beach. A quintessentially British scene!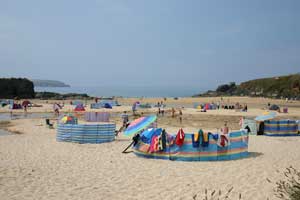 In the evening we watched the sun set over Falmouth, as we got Keoma ready to depart, bound for Suffolk.
We are now motor sailing, having left Falmouth at 2100hrs. There is less than 10 knots of wind.
---