Flores - 22 June

Dearloves
Thu 22 Jun 2006 21:29
Today we decided to go for a long walk to blow away the cobwebs. We set off from Fajol de Albarnaz in the north of the island, heading for Faja Grande which is around halfway down the west coast. The walk was approximately six miles long and took us over four hours, as there were plenty of boggy and slippery areas which slowed us down, especially as Pip fell over in the mud six times!
We took a taxi to the start of the walk and were amazed at the flowers lining the side of the road. There were hedges of newly flowering hydrangea lining both sides of the road, with pink roses growing up between. The hydrangea would be blue when fully in bloom, but at this stage they were mainly cream with a tinge of pale blue at the tips and looked absolutely stunning.
A soft drizzle was falling as we left the taxi, but we wanted to do the walk nevertheless. We thought a bit of rain might help us acclimatise for when we get back to England.
The start of the walk
At the beginning of the walk we walked over fields with dry stone walls and banks of hydrangea. It was all very lush and green. Some of the paths were so deeply cut into the fields that the paths were over 2 metres beneath the soil level of the fields. It was like walking along in a tunnel, as some of the plants had grown over our heads.
Later on in the walk, we emerged onto the coast path and followed a rather vertiginous route along towards Faja Grande.
For the first time on this trip we did a walk where we did not see a single lizard. However we did see a beautiful dragonfly, which was around 20cm long.
We passed countless waterfalls. Some we estimated at over 300m drop, like the below.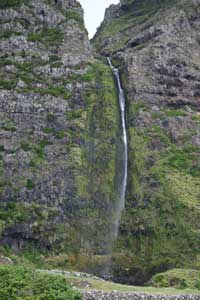 Alice and Pip are very keen on eating nasturciums and we have to watch out that they aren't tucking into the locals' flower beds. This was not a problem in Flores, as they were growing in abundance (like everything else) on the roadside. Our taxi driver told us that these plants are all self-seeded, which seems amazing.
---