Anguilla - 24 April

Dearloves
Tue 25 Apr 2006 01:25
Anguilla is a small island just north of St Martin, around 15 miles long and 4 miles across at its widest point. It is low lying, unlike our previous destination, and has wonderful sandy beaches. The view from our boat is stunning turquoise water and white sand:
The sand is very fine and powdery. We spent a long time on the beach today. The water was 32 degrees C, like a warm salty bath. There was a beach bar which served wonderful fruit juices, including great homemade ginger beer. We also had cappucinos there - our first good coffee for a long time.
Alice
There are some very entertaining pelicans here. They look prehistoric, and dive-bomb the water at great speed but mostly unsuccessfully. When the fish gets away they look around in an embarassed way, as if hoping no-one is watching.
We also went for a walk to loosen up those limbs which are still aching from the steps of Saba. Actually, only Juliet is admitting to sore legs, and hobbling around. Everyone else seems fine... We walked past the salt lake and up the hill. As we went up the hill a van came from behind with a tea-cosied man leaning out of the window. "Really sorry mon..." His van was followed by a thich stream of white fumes. We covered our noses and continued. At the top of the hill we met him again, this time outside his vehicle. He apologised again and asked us why we were walking. He offered to lend us a car, and sort out a local driving licence for us. Again we felt we had found the real Caribbean, away from the tourist rip-off of some of the islands.
Yesterday we saw the local racing sloops competing. These boats were a contrast with the local work boats that we saw in Grenada, with high-tech sails: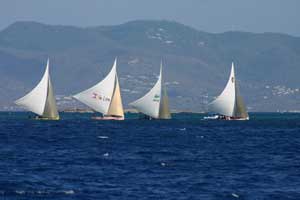 Anguillan Racing Sloops
The picture shows some carbon genoas - one of the boats (not pictured) had a carbon mainsail and it took line honours. Each boat had around 10 crew on board. From the noise on the beach last night, it sounded as though they all knew how to celebrate, too.
The beach, with a couple of sloops moored just off. Very tall rigs!
Unfortunately we have to leave tomorrow to pick up sails from repair in St Martin, then south to Antigua (around 100 miles). We suspect that the next couple of weeks will not be so relaxing, with the hurly-burly of race week and its preparations.
---