New Year - Bequia

Dearloves
Mon 2 Jan 2006 14:57
Last night's New Year's Eve was a real jamboree on Bequia. Just getting out of our dinghy onto one of the dinghy docks was tricky - there were so many boats tied up there that it was hard to get close and we had to climb over other boats.
We started the evening at a restaurant called Gingerbread, with several other families, and had a delicious meal. We celebrated UK new year, at 8pm, toasted with cocktails, and then again at midnight local time, with Auld Lang Syne played by a local band who had entertained us all evening.
Gingerbread Local Band
Make mine a Cosmopolitan...
Mindy and Fi celebrating UK midnight - looks like Fi's margarita is hitting the spot!
Kerry and Rob from Whitehaven - their midnight was early this morning, being from Sydney
Pip shared her chocolate cake with Charlie - most of it went over him or the floor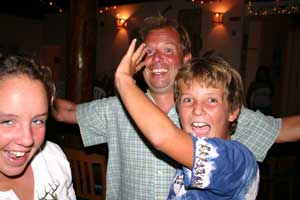 Emily, Paul and Ollie from Blase - they haven't been quite normal since the whale incident...
At midnight there was a firework display over Admiralty Bay. Then we hit the beach bars, where there were more bands. Everyone was dressed up for the occasion and there was lots of dancing.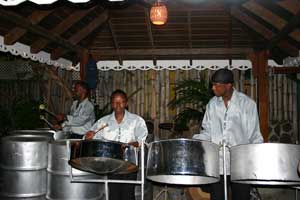 Steel Drums at the Frangipani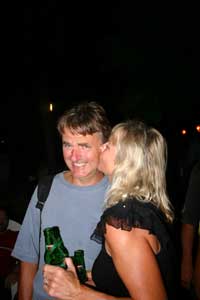 Bill and Mindy from Temula B
Alice and Emma with streamers
We met several other ARC boats, including Fenton and Mullett from Expresso.
Fenton strikes a pose
This morning, New Year's Day, we are having the worst weather that we have seen since we crossed the ARC finish line. There have been gusts of 35 knots through the anchorage and rain showers, and we are watching all the boats carefully for dragging. So far our new (Fortress) anchor is performing very well and we can see from our GPS that it has not moved at all. Earlier our dinghy flipped over (with the outboard on the back) in the wind, and the shoes still in there from last night floated away. We managed to recover them, eventually. Charlie and Rob have been loving the windsurfing in these conditions. They have discovered perfect windsurfing for the over 40s which involves one windsurfer and one rib. The rib allows for physical recovery in between bouts of airbourne windsurfing!
---