Bermuda - 4 June

Dearloves
Sun 4 Jun 2006 21:30
Yesterday we said goodbye to our friends on Wild Alliance, who left for the Azores.
It was Geoff's birthday and we went for lunch at Cafe Gio. In the evening we went for dinner at Sam and Rick's - Sam is an old friend from Suffolk who has lived here for 11 years. They have a fantastic house overlooking the water. Rick collected us in their motor boat and we had a breathtaking trip from St George's to their home, some of it travelling at 35 knots - slightly faster than we are used to!
Sue - This is THE Life!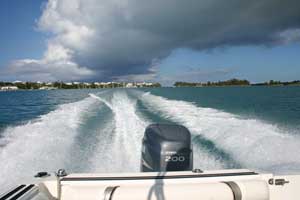 Looking aft
Alice
Colourful Homes
Waterfront Palms
Sam and Rick's house is stunning. They have a small dock for their boat, with 40 steps cut through the high rock face, leading up to the house: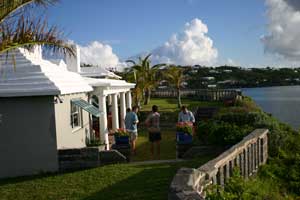 We saw some beautiful lizards there, and the tree frogs were very vocal at dusk.
Tree Frog
---