40 30 596N 29 01 184W - 14 July

Dearloves
Fri 14 Jul 2006 13:39
At 2.30pm (3.30pm UK time) yesterday we slipped Keoma's lines and motored out of the marina at Horta. Soon we picked up a northerly breeze and hoisted the sails. With the engine off we were sailing along on a fine reach at between 7 and 8 knots, in 15 knots of wind. The sea was flat and it was a beautiful sunny day, the visibility so clear. The green of the close islands was stark against the predominant blue of the sea and sky. All through the night we held the breeze, becoming NE as we left the islands behind.
This morning the wind has dropped and we are now motoring in a NNW direction, looking for SW winds peripheral to the low which is currently in the North Atlantic heading for the Irish Sea. The sea is still a flat calm, resulting from the large high we are currently in the middle of - the barometer reads 1029mb. The header shows our position at 1200 hrs local time (1300 hrs UK time).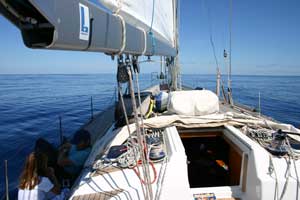 Mark and Pip are doing schoolwork on the sidedeck. Pip is working on her times tables and clocks. Alice is doing measurement conversions (from metres to km, cm to mm, etc).
We have been passing some strange white things that from a distance look like balls of escaped boiled egg around 3-4cm in diameter. Mark has caught one in a bucket and it has pods attached which contain some kind of marine wood lice, the largest of which is approximately 2cm long.
So far it is the only thing we have caught today. Yesterday we caught a bird on the fishing line, which was gruesome. The fish famine continues. I wonder whether marine louse risotto would go down well...
---