Keoma - 8 December

Dearloves
Thu 8 Dec 2005 19:34
It is hard to believe, but, after 19 days at sea, we will make landfall at St Lucia in the early hours of tomorrow (Friday) morning. We are currently 105 miles from Rodney Bay and sailing along at between 7 and 9 knots of boatspeed with a large following sea. We are only using a small amount of genoa for propulsion. The waves have been stunning today, rising up behind the helm like mountains glistening in the sunlight and then catching the stern of the boat to propel us forward with a shove downhill.
Dawn
Alice on the dawn watch
Big waves this afternoon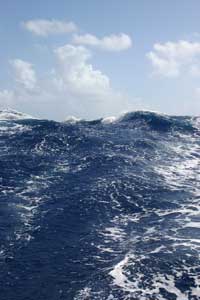 The view from the cockpit
Last night we had a constant wind of around 30 knots, with occasional wind squalls. At one stage we had a rainstorm and 46 knots of wind - a force 9. Amanda was on watch when this hit us, and got completely soaked but didn't need to intervene - the autohelm coped brilliantly. Again it was very noisy down below all night, with everything rolling and crashing with the movement of the boat and from time to time things falling off shelves adding to the collection on the floor. This meant that once again it was difficult to sleep. We are looking forward to a few nights in a marina, where we won't have to take it in turns to get up to cover night watches and bed won't feel like the inside of a washing machine.
It will be nice to have an opportunity to properly tidy up the boat, when we reach land, as well as to clean out the fridge, which smells so bad you can tell when it is open, no matter where you are on the boat! We also have ten bags of rubbish in the anchor locker which we will have to draw straws over to decide who gets the lovely job of removing it and taking it to the bins in the marina.
GPS
So far we have sailed over 5000 miles - here is a track of our journey since leaving Italy in July. Every day when we send our position into the ARC office, we put a red cross on the GPS. The next part of our journey will be the Caribbean - to track our progress see
www.dearloves.net
.
---