San Miguel - 7 July

Dearloves
Fri 7 Jul 2006 17:21
Yesterday we hired a car and drove around some of the island. We started at a natural swimming pool, formed in the volcanic rocks at Ponta da Ferraria, at the western end of the island. Heat from the earth's core kept the rocks warm and this heated the sea water so that the pool was the temperature of a warm bath. Waves came in and out, bringing cooler water (the sea temperature is very fresh here) and taking some of the heated water away. It was lovely to lie there and be washed in and out with the waves, as the bands of water at different temperatures moved back and forward. The landscape nearby looked like a moonscape and steam puffed out of fissures in the earth.
Natural Swimming Pool
Charlie, Pip and Alice in the pool
We also visited two lakes, said to have been formed by the tears of a princess and a shepherd boy who were forbidden to marry. One is green and the other blue.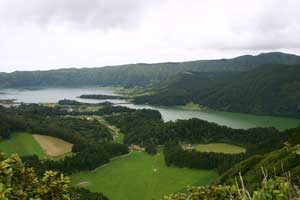 Sete Cidades
The island is beautifully lush and green. We drove for miles and miles along lanes lined with agapanthus and hydrangea.
Roadside Verge
Today we went whale watching, as an early birthday treat for Pip. We were taken in a high speed rib to the south of the island, where the water is deeper, and were extremely lucky to see sperm whales, dolphins and fin whales - the latter was a pod of three including a calf.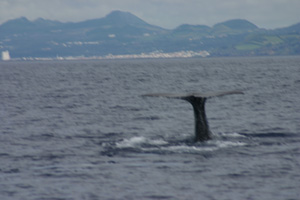 Sperm Whale Tail
Fin Whale
Fin Whales are the second largest mammal and our guide today estimated the length of the largest one we saw to be around 24 metres. We were around 15 metres away, which was very exciting.
Porta Delgado, where we are moored (in the marina) is a historic city with some beautiful buildings. It is a feature of the architecture here that some of the older buildings have an extra room tacked on above the top floor, as a lookout. This is believed to date back to times when piracy was rife and early warning was useful.
There is a Norwegian submarine moored up on the other side of the harbour, which the children are very interested in.
---