West Terschelling, Holland 53:21.915N 005:13.505E

Pelagia
Frans & Sarah Toonen
Thu 9 May 2019 17:00
Thursday 9 May 2019, West Terschelling, Holland 53:21.915N 005:13.505E
Weather: SSE force 4, becalmed at times, then W5 on Wadden. Dry with some sun.
Scenic passage through the familiar Markermeer, locking into the Ijsselmeer at Enkhuisen. Shortly after leaving the lock the wind dropped off and we hoisted the cruising chute. With one duct tape repair and one hole it still flies! We were becalmed for a couple of hours but more annoying than the lack of wind were the bugs that arrived en masse and settled on every surface. They were not interested in biting us just clinging on. Bigger than mosquitos with the same upturned tail and brown stripes we have not been able to identify them. We had the pleasure of their company last season in Urk in the other side of the IJsselmeer and they were as annoying as we remembered marking all the teak as you couldn't move without squashing them.
By 1730 we were out in the Waddenzee and following the dredged channels to Harlingen and on to Terschelling. From Harlingen we took only 3 hours which is not much longer than the slow ferry! There we no other sailing boats around and so the Toonens could see us from West after they had been out for dinner. The setting sun was lighting up the sails and the sandy banks of Vlieland. They have a new sign in the marina telling everyone to berth with the bow facing south. Presumably they have a neatness problem (a Dutch thing, that's why Frans had to leave) With a decent northerly wind setting for the next few days, we ignored the sign and moored bow to wind… who wants the howling wind blowing inside their boat when it's cold enough already. Next morning we were amused to see all the neighbours turning their boats around too.
Light house from when the Zuiderzee (now IJsselmeer) was still open to the North sea.
Approach to Terschelling, you can just about see the Brandaris in the bottom right. A special place for Frans. His parents have been coming here since 1959… (conception?)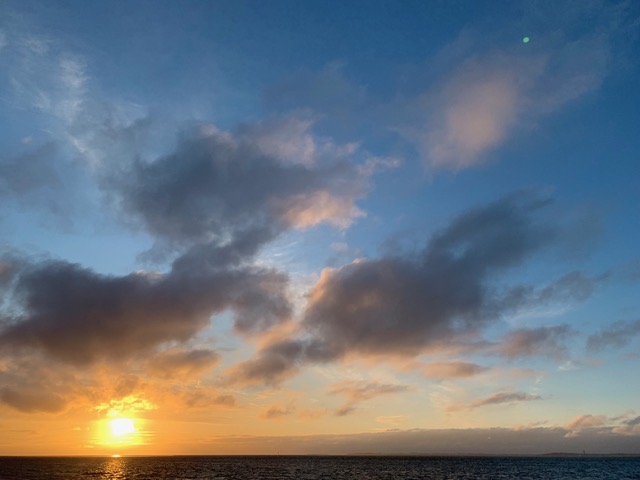 ---