Horten, Norway 59:24.819N 010:29.356E

Pelagia
Frans & Sarah Toonen
Sat 24 Jun 2017 17:00
Saturday 24 June 2017. 25 nautical miles. 2.6 engine hours. Passage 5.5 hours. No rain. Westerly 3-4.
We set off south to circumnavigate Notterøy and enjoy the coastline scenery before heading north up the Oslo fiord and away from the south westerly which was building further south in the Skaggerak. Horten guest marina had space and although not the most attractive place we had good shelter and were moored within 10 yards of the facilities. Horten has a rich naval history and has been a very significant port. The Norwegian Naval Museum is here but there was no appetite for exploration today.
The marina sea wall of granite blocks was a bit blustery for a BBQ so the harbour master suggested the carpark used by the motorhomes - different. Although we cooked in the carpark we did eat on board. Frans offered the homeless chap in the carpark a sausage but he was only interested in cigarettes so we couldn't help him there.
Steve at the helm on our sightseeing trip round
Notterøy.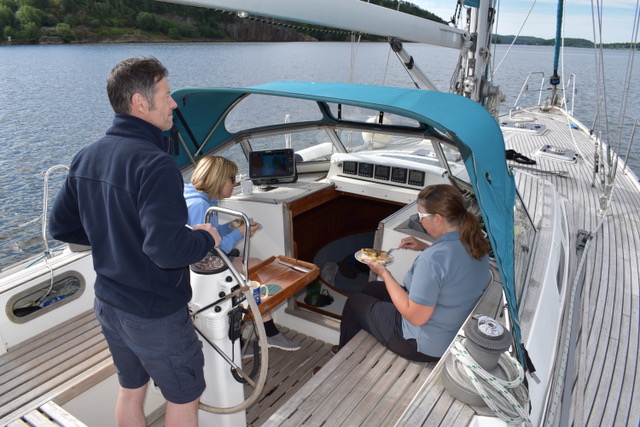 Horten in a good light
---