Near Uitdam, Markermeer, Holland 52:23.236N 005:01.392E

Pelagia
Frans & Sarah Toonen
Wed 8 May 2019 17:00
Wednesday 8 May 2019, Near Uitdam, Markermeer, Holland 52:23.236N 005:01.392E
Weather: South Easterly force 3/6 gusting 7, backing South West. Overcast with some rain.
The off shore wind was perfect to passage north as the waves could not gain much height before reaching us and slow us down. We roared along reaching IJmuiden under a stormy sky, larger seas and gusts up to 32kts. We covered the 65nm to IJmuiden before 15:00h with an average speed of 7.5kts. A great start to the season under sail.
The forecast was for the wind to increase and so we decided not to go on to Den Helder as we could expect dangerous seas in wind against tide between Texel and the northern tip of Holland. But instead entered the lock into the Noordzee canal by IJmuiden. The sun came out as we motored the Noordzee canal towards Amsterdam and out into the Markermeer seeking an overnight stop.
Anchoring spots are rare in the polder lands but we found a little shelter in shallow water…only clunking the sandy bottom once as we circled slowly around checking for depth. Swinging room was tight and we had a close up view of the bank in the morning.
Noordzeekanaal, waterway artery from the Northsee to Amsterdam harbours and Europe's inland waters beyond.
Keep a good watch and listen out on the radio… we were asked to move over to allow this barge to pass us to starboard (normally it's port to port).
Indeed, traffic control couldn't raise a captain on a barge and a police boat popped up and he was promptly fined (all this played out on the radio to provide us with entertainment).
Aaaah. Happy wedding anniversary Jennifer & Jospeh!!! This was the cake topper.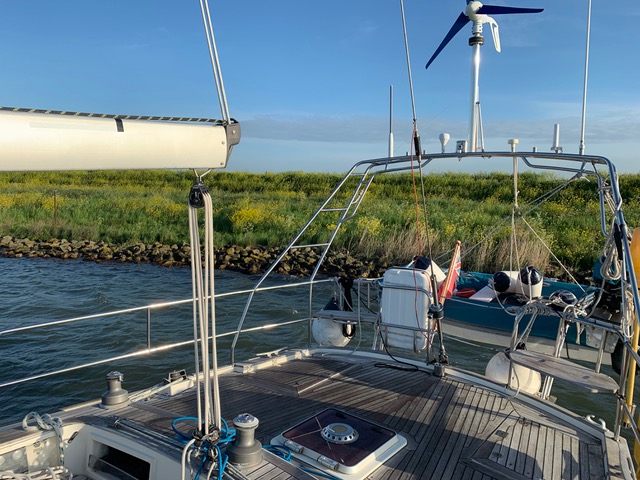 ---