Nusfjord 68:02.049N 013:20.979E

Pelagia
Frans & Sarah Toonen
Fri 3 Jul 2015 17:16
Friday 3 July 2015. 9.4nm in low cloud. 1.6 engine hours.




Another short hop along the coast to the picture postcard harbour at Nusfjord where this tiny fishing village has been restored as a heritage site and museum designated by Unesco, due to it's unique wooden structures, as the best preserved fishing village in the whole of Norway. Classic Hotels of Norway operate it as an hotel but unless you see the maids with their trolly at the rorbuer cabins you'd be none the wiser. Some of the cabins are fully 'heritage' which means no plumbing and a display of old fishing gear in the entrance to set the atmosphere! There is an open sleeping deck above the single room cabin but the windows are double glazed or they'd have trouble letting them. Letting guests park their cars near the cabins spoils the look but the coaches (from cruise boats) and motor homes are parked some distance away. Entry is 50NOK so our mooring fee of 200NOK including electricity and wi-fi was a good deal.




Kittiwakes and Common Gulls were nesting on ledges 5 or 6 inches deep. In between doing nothing at all we learnt that the Kittiwakes have the black legs and the Common Gull the yellow ones. Apart from this the two species are virtually identical.




We were moored at the cod-liver oil distillery where luckily they showed old films of the process rather than boiled up fish liver to give a 'real' visitor experience. The old bakery baked and sold bread and cakes daily and there is a forge, boat sheds and shop still furnished as if it was 1900. The hotel restaurant served us a delicious dinner and we went native trying the local 'treats' crispy cod tongues and whale dried into 'ham'. The cod tongues are not tongues but a gelatinous muscle from under the chin. Much prized apparently as each is still cut from the head before the heads are dried for Africa. The TV presenters had a go cutting them off quickly at the live show by the ship in Reine.




As it happened we were lying with the cockpit getting sun all day and so we had to read. We tried going for a walk but the path turned into a scramble around the edge of mountain lakes so we turned back and forced ourselves to leave.




Great spot. We did move next to the other boat with nose into the wind as the pontoon swayed dangerously with the wind beam on down the hole.

Not sure the pontoon had an anchor, it seemed only to be attached with a few bolts to the longer pontoon.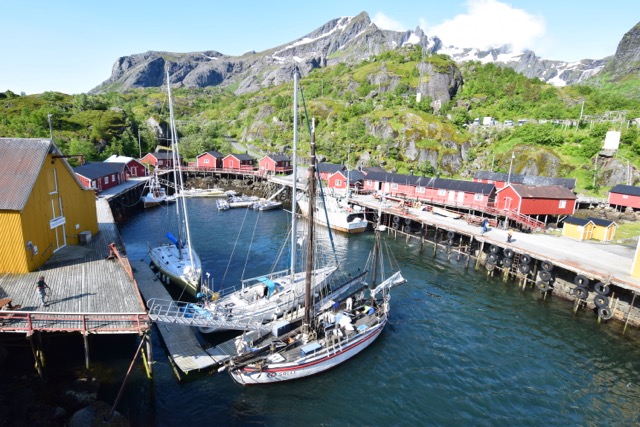 Politically incorrect but we had to try it, promise we won't do it again… Frans quite liked it.
Contrary to the map the path, for what is was, seemed to end for normal hikers.
---