Punn Sanden 67:39.475N 012:37.313E

Pelagia
Frans & Sarah Toonen
Fri 26 Jun 2015 10:44
Friday 26th June 2015. N4. Overcast. Cold. 4.8nm in 1.1 hours. 0.8 engine hours.
A quick trip of just over an hour to get to the anchor spot in the bay Frans had seen from his hike. The towering cliffs and narrow gorge cutting west/east through the island all affect the wind and so finding the calmest spot takes time. Our first objective was to to try to get to the puffin cliffs beyond Måstad and so we took the dingy out for the first time this season. Sarah put her water shoes on and rolled her trousers up ready for getting the boat ashore. The tiny beach near Måstad turned out to be mainly boulders and so quite a bit of Arctic wading was involved before we carried the dingy up to a safe height above the rising tide. At 8C it's so cold it doesn't feel cold as you can't feel your feet for a while. The route to the cliffs looked too difficult and so we headed back on board to prepare for the BBQ. We can make do with the Puffins, Razorbills and Guillemots in the water around the boat.
Off to the sandy beach for a delightful Robinson Crusoe in the Arctic evening. No footprints on the sand except ours, an Eagle soaring above us and one bold Seagull eyeing up the food.
Wild pansy family flowers on our walk to Måstad
After we had left the next day Sarah learnt about the 3000 year old cave paintings
Temperature wasn't much above 10°C… campfire therefore essential.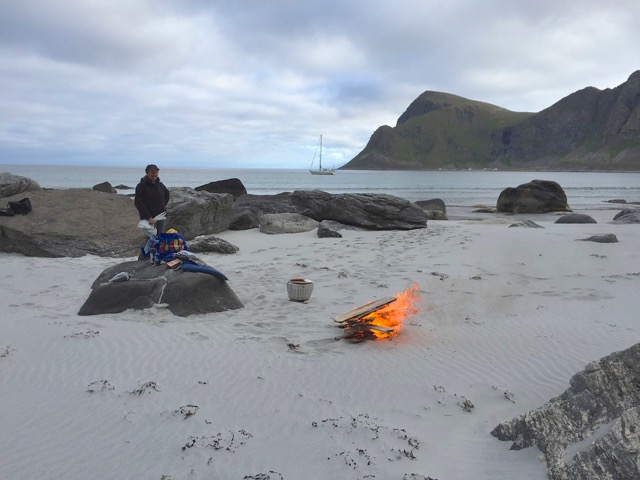 ---