Cairnbaan. Crinan Canal, Argyll 56:03.631N 005:28.773W

Pelagia
Frans & Sarah Toonen
Wed 11 Sep 2013 17:03
11 Sept 2013 Westerly Force 4.
Very fast run down from Oban. With the tide we reached 13.5 knots over the ground in the Sound of Luing - very exciting for our crew. Entered the Crinan Canal around 1pm. It is 9 miles long and links Loch Crinan to Lower Loch Fyne across the top of the Kintyre peninsula. This canal is enchanting with lovely views across the estuary of the River Add where it enters Loch Crinan. In places it is only 20' wide and as Pelagia is 14' Jonny was able to pick flowers from the bank while we were motoring along. Built between 1793 and 1801 it has 15 pairs of lock gates to be operated manually by our very efficient engineering crew of Jonny and Lucy assisted on occasion by Sue and a selection of passers by who joined in the fun. Lock operations have to cease by 5pm so we went alongside a tiny pontoon at Lock 7 and ran the gauntlet of the midgies to the Cairnbaan Hotel taking the Scrabble with us for a night out. Frans was pleased to introduce Jonny to the Red MacGregor beer brewed in Orkney at the microbrewery we had visited.
Sealock, quite a cauldron, we entered at low tide so a lot of filling up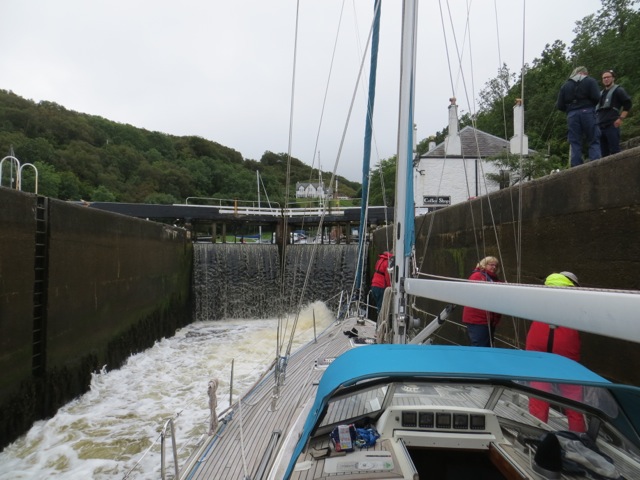 Will it fit? Jonny is thinking about it.
No it won't, where's the canal?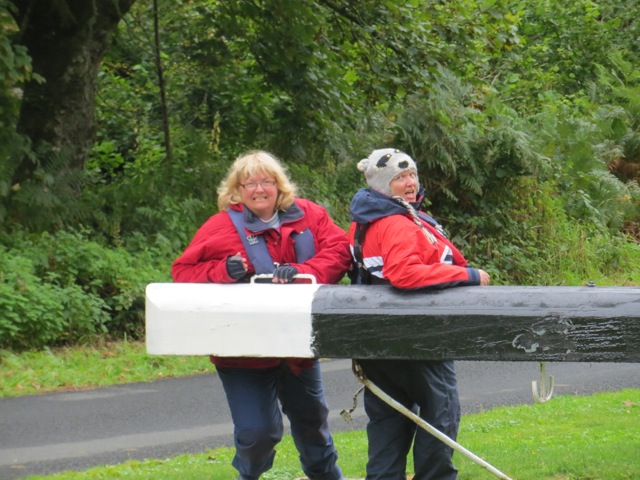 ---