Bodø 67:16.962N 014:22.207E

Pelagia
Frans & Sarah Toonen
Sat 20 Jun 2015 20:32
Saturday 20th June 2015. N 2-3. Colder. 52.2nm in 9 hours motoring.




With all this motoring we had to brace ourselves to re-fuel. We have burned 225 litres since Inverness. Helge had told us that diesel is one of the few things that is cheaper in Norway and we didn't pay more than the UK price but not much less. As we used a self service machine in the tiny village of Bolga perhaps it was a premium price for the 24/7 convenience.




Bodø is the county town (47000 pop) and was very prosperous in the past during the herring heyday and whilst the nearby Sulitjelma mines were yielding up copper, iron ore and precious metals from 1300 feet below the surface during the late 19th century. Sadly the city was flattened by the German forces in 1940 and so everything is very modern now. The English had a go at flattening it during the Napoleonic wars but without success. Bodø is the transport hub for ferries to all the islands and the airport (airstrip would be more correct) is 5 minutes walk from the harbour so the feeling is most tourists pass through rather than stay here.




We had hoped to find bonfires and music in town in celebration of midsummer with this being the closest Saturday but there was nothing on. It's celebrated on 23 June here the Harbour Master told us.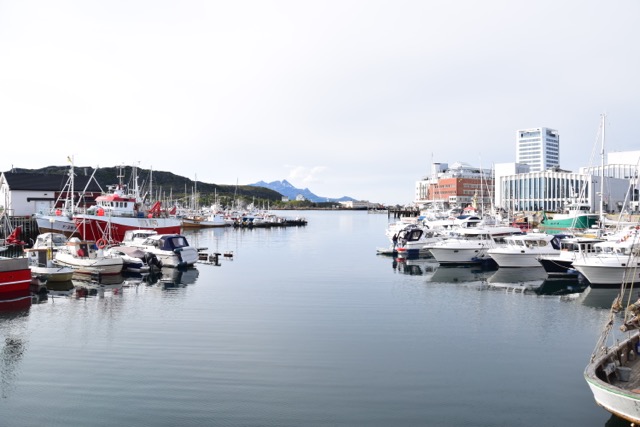 That tongue coming out of the mountain is golden sand… bizarre.
---