Bornholm island

Pelagia
Frans & Sarah Toonen
Sun 29 Jun 2014 20:45
Thursday 26 to Sunday 29 June 2014
On approach to Hammerhavn we noticed there was a kind of ruin up on the cliffs ( yes cliffs - haven't seen those for a while) and we later discovered this 12th century castle ruin is apparently the largest in North Europe and the No 1 attraction on Bornholm.

This tiny harbour is a gem. A disused grantite loading site it was refurbished in 2012 into a charming leisure harbour. They have built a 'house' for the sailors with a dining area that even has a wood burning stove. Patio doors to the westerly view, outside seating areas and fast internet. The only other facility is a small cafe where Marie serves her own baking - hazelnut meringue for pudding. A few wooden cabins are set behind the little sandy beach, it's perfect and holds about 7 yachts and maybe 30 smaller motor boats/ leisure fishers.

On arrival we saw several signs stating 'Badfarten' and also a card in the cafe. We immediately wished our brother in law Pete was here with us as his humour is almost as good as this. We have now discovered this means 'boat trips' in Danish which is not as funny.

Friday morning we walked up to the castle ruins and then across the northern point to Sandvig past the old gravel pits ( tourquise water, lovely flowers and picnic spots) and all around the headland, 11kms. The area is very pretty with pinky grey granite everywhere and loads of different trees and flowers. The meadow areas go right up to the rocky coastline and we figured out this is because the Baltic is not very salty or the spray would kill the flowers. We saw a few different kinds of ducks, including Red Breasted Merganser for the first time, and some Guillemots. There are lots of Eider here and the hens with young come right in to the shore at sunset to dive for supper.

Stayed 3 nights and will stay again tonight if the rain doesn't stop. On Saturday we spent a whole day exploring on the bus. An hour south to the capital Rønne for a walk around and lunch. It has the usual churches and half timbered houses, plenty of roses and hollyhocks but is clearly a working town as well as the arrival port for all the tourists. Decided to see the whole coastline, in case we missed anything and should move the boat south, so we took a slow tour around the whole coast road going down the dead ends into every hamlet. Took 3 hours but hey we saw nice things and it was cheap. The tiny harbours of Svaneke and Gudhjem were the prettiest. There are white sandy coves and forests.
Sarah has been Facetiming Chrissie today which is impressive considering we're in a tootie little place on an island in the middle of the Baltic. Looks like Chrissie might be joining us for a week… yippee! Frans did a 43 land mile bike ride today and now has legs of rubber. Bought a disposable BBQ… off to the beach now with our picnic.
How the Hammerhavn harbour used to be when the granite was still being quarried:
Danish equivalent of our Fish & Chips, they're everywhere. So, when in Rome… this is the "Franske" version… won't be having too many of those.
and this is for Pete (yes the sequence of pictures is intentional):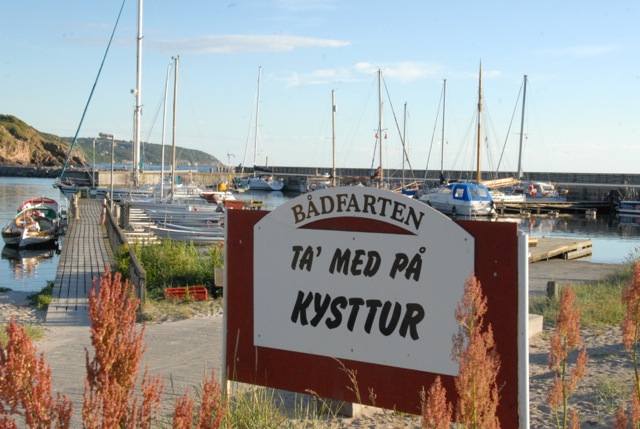 Not a typical Danish coast line:
Red breasted merganser - poor quality shot sorry
Got a Text from Ma... Holland are through to the ¼ finals… I am Dutch today (Sarah made me stand like this):
---