Arrival: Banavie 56:50.964N 005:05.353W

Pelagia
Frans & Sarah Toonen
Fri 5 Sep 2014 14:00
Friday 5th September 2014. Spent a few days at leisure in Gairlochy before moving on to Banavie. We dismantled the SB genoa winch and serviced it prior to fitting the new jaws we've carried with us all summer.
We had a great view of Ben Nevis from our mooring and couldn't resist the opportunity to climb it the next day. Sarah took the bus to Fort William to go up the Tourist Route (Mountain Path). Frans walked from the boat and went up by the Allt a Mhuilinn mountain stream valley then climbed the crags of Coire Leis on the east side of the valley up to the ridge and on to approach the summit of Ben Nevis from the east side. Seems we were the only people who didn't know the Ben Nevis Race takes place on the first Saturday of September and so by the afternoon the mountain was busy with 500 runners. There were a lot of marshalls, a helicopter making several trips to the saddle and press crews but they couldn't see anything much because of the low cloud.
Frans set off down the Tourist Route and we met up a quarter of the way down. As we were in cloud and surrounded by runners (not tired of course) now we came down together to the saddle with Carn Dearg then headed east back into the stream valley as the runners were using some of the Tourist Route. Eventually we reached Fort William where the footpath took us into the back of the distillery behind the sheds. As it was after hours we had to climb the front railings to get out - strange footpath. We both walked back to the boat so as not to wimp out. Frans did 30kms and Sarah a respectable 22 in 9 hours.
Ben Nevis looks lovely from here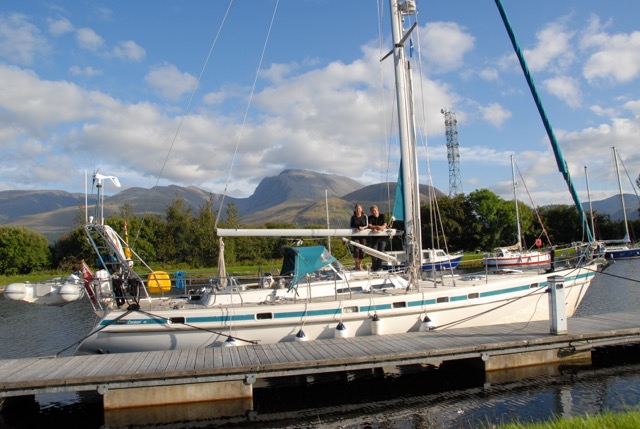 Better views from the Tourist Route
Most people want to break in to a distillery - we want out
---