Wick 58:26.389N 003:05.057W

Pelagia
Frans & Sarah Toonen
Tue 2 Jun 2015 23:40
Wednesday 3rd June 2015. W 4-5 then NW 6, a little sun and a few showers. 12.5 hours, 73.3nm. 1 engine hour - very good as we had to do 2 locks and a short canal stretch before reaching the Beauly Firth and then motor into Wick harbour.
Tidal steams in the Firth can reach 3.5kts at Springs so because we are on Springs our exit from the canal needed to be carefully timed. We set off from the marina at 1230 Tuesday only to find that the keeper at Clachnaharry Works Lock was on his lunch break and could not open before 1400 anyway as the adjacent railway bridge needed to be swung for the 1355 train. We took the chance to head back to the marina and fill the diesel tank in case fuel was (like everything else) very expensive in Norway.
With the westerly gusting F6 and the current being with us we made speedy progress though the narrows between Chanonry Point and Fort George then followed the north side out to Tarbat Ness. After passing the Ness we had intended to find an anchorage in the lee of the coast but with the strengthening wind we would have had to tack into wind to reach the coast and that coastline has very few suitable spots anyway. The harbours are shallow or dry out along that way so no use to us. Anchorage in limited shelter in a F6 would have meant an uncomfortable night for Frans (Sarah sleeps anywhere/anytime of course) so pressing on to Wick made good sense. Having called ahead to Wick as part of our passage preparation we knew we could get a place on arrival.
Heavily reefed we roared up the coast, the clouds cleared so the moon could add further light, and we motored into wind and through the tiny harbour entrance at Wick to secure on the hammerhead. 2 Norwegian boats that had left our marina before us were also there.
Wick marina was created in 2009 in the 19th century inner harbour. Built for the herring boom and then used for the white fish trade until that collapsed in the 1970's the marina within the harbour is rather an oasis of modern commerce within a port and town which clearly has seen better days. The marina gets 10/10, it's great - sturdy pontoons of decent length with excellent services. Walk around the town and the atmosphere is different. There are many streets where occupied house are neighboured by derelict buildings. Empty buildings are the majority in town although you can see money is spent to keep the streets tidy. There are a few fishing boats based here landing shell fish for export to mainland Europe but in comparison to the displays of 19th century photos of 1100 herring boats in the harbour landing and processing 25 million fish a day the term 'past it's heyday' could have been invented for Wick.
We stayed less than 24 hours (bad weather due Friday night forces us on to Shetland or we might have several days to wait to cross the Pentland Firth) and had a long walk around town and along the river path. As we planned to leave at 11pm we went back out to find fish and chips at 8pm. Equipped with garlic mayonnaise and heinz ketchup we knew we'd be eating on a bench as we'd not seen any cafes. What we didn't know was that they shut as 6.30 so we were walking around a ghost town.
Splendid pontoons in Wick. Coming in Sarah thought the blue covered Crew Lift on the pontoon was a fat person in white trainers waiting to catch the lines!
This is the only Herring Market b
uilding left in Scotland
Just one example of an abandoned building
Thomas Telford stayed in the white ' round' house when he was here working on the harbour with another eminent engineer, Thomas Stevenson father of Robert Louis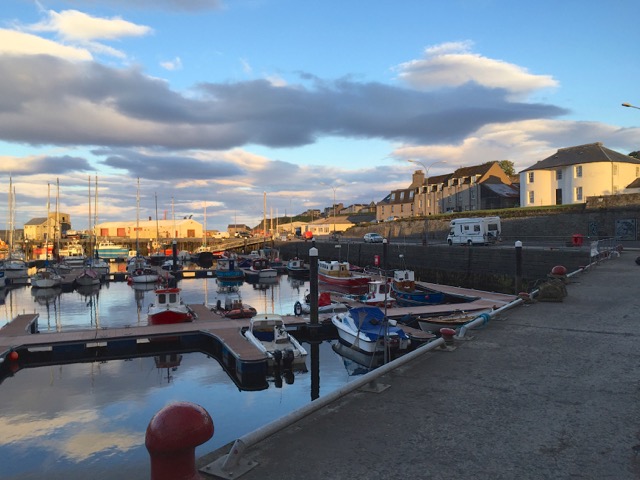 ---