Inverie Bay, Loch Nevis 57:02.123N 005:41.086W

Pelagia
Frans & Sarah Toonen
Fri 12 Jul 2013 18:00
Friday 12 July 2013 - Fog and sun




Awoke to rolling fog and poor visibility. Motored out of Loch Moidart (very tricky pilotage) and north up the coast. Fog finally left us as we turned to starboard at Mallaig and into Loch Nevis. Towering hills and deep deep water here. Moored at Inverie on the moorings belonging to The Old Forge (remotest mainland UK pub only accessible by boat - no roads to the Knoydart peninsula) which Frans had visited on the 2005 trip. Gez and Frans straight off in the dinghy to see if the ale was up to scratch. It was which is more than can be said for our meal which was OK pub food and perhaps our expectations were too high - spoilt by Cafe Fish. The scenery is amazing and the shoreline of the village is all planted with shrubs and flowers by the community so it is well worth a visit. There are trails and waterfalls inland but we had to be off in the mooring to deliver the Listers to Mallaig for the train and to do our next provisioning.




Getting out of Loch Moidart isn't easy… 100 yards visibility doesn't help… well done crew!
Listers stand down from fog watch… just in time as the air in the fog horn canister ran out.
Boys view of the girls on Pelagia: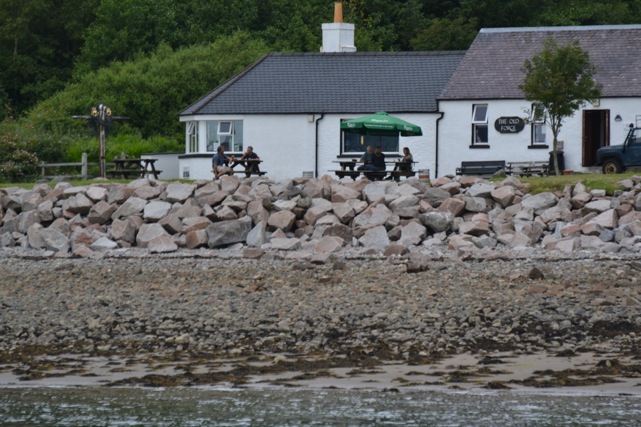 ---