Sandspollen, Norway 59:39.924N 010:34.757E

Pelagia
Frans & Sarah Toonen
Sat 1 Jul 2017 17:00
Saturday 1 July 2017. 12nm. 2.7 engine hours. NW/W 0-2. Hot 26C. Water temp 18C.
Time to head south. A glorious sunny day and golly were the Norwegians out on the water. Holiday time has started here in ernest. Every kind of water transport and activity surrounded us and we moved south through the islands . Our favourite was a blow up flamingo one of the children had in the anchorage.
No wind is forecast this weekend so we headed back to the anchorage at Sandspollen where we were last Sunday. What a difference a week makes. Instead of about 20 boats there are about 120 here. We counted 100 then loads more arrived in the evening. The air is filled with the sound of children playing in the water now rather than the birdsong of last time.
Frans noticed another Contest yacht, Amatrix, coming in with the same colour stripes as our hull. Turned out to be very similar age and same model. The chap came over for a chat in his dingy.
Frans had noticed that our speed was poor and suspected perhaps some growth on the impeller which measures the speed. Not just that unfortunately as all the hull has growth on it and it is 6" long at the waterline. We left home before we could get our dive cylinder tested and filled and so Frans spent the afternoon diving down armed with a wooden spatula to scrape the worst of the vegetation off. Slow and laborious. The port side is the worst as that was the sunny side when we spent 5 days in Sandvika. This fouling is very disappointing as the hull was cleaned in April and our coppercoat antifouling is only 4 years old.
Leaving the public quay at Sandvika - the footbridge to the right is to an island where there are beaches
Sunny Saturday - boats everywhere
This yacht is stuck on a shallow bit only a few meters from the channel - the coast guard is about to pull him out backwards
The Contest 46 'Amatrix' - same as Pelagia (without the swimming platform though - ours is not original)
Busy anchorage is hard to photograph when the wide angle lens is at home in the kitchen drawer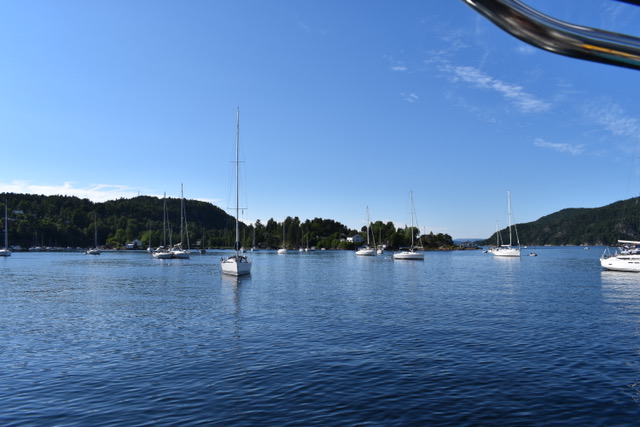 ---