Brunsbüttel, Kiel Canal, Germany 53:53:74N 009:08.82E

Pelagia
Frans & Sarah Toonen
Mon 13 May 2019 17:00
Monday 13 May 2019, Brunsbüttel, Kiel Canal, Germany 53:53:74N 009:08.82E
Weather: Northerly force 3 increasing to North Westerly force 5. Partial Cloud.
Due to the funnel effect, winds in The German Bight tend to be quite strong. A favourable forecast to passage east along the Dutch and German Wadden islands should therefore be taken whenever possible. By Friday 10th the wind was already forecast to turn and settle east for the following week and so we were keen to leave or else be possibly a week on Terschelling at €47 per night. Even with the free laundry (with coffee) and the nice bread lady coming every day to set up her stall at 8am this high cost quickly mounts.
After Frans watched the Spanish Grand Prix with his Mum and Dad we left our mooring at West Terschelling at 18:20h. Taking the 'gat' seaward with the tide between Terschelling and Vlieland we motor sailed north to gain enough height to clear the coast all the way to the Elbe. We stood off some distance from the lee shore and made fast passage east hugging the shipping lane to our north.
Last year a cargo vessel lost over 300 containers into these waters and many remain unaccounted for. The coastguard announced salvage operations were taking place near Ameland and Rottum to recover about 200 which meant reduced risk for small shipping.
The night was dry and clear so with only half moon it never got properly dark. After Sarah had her usual 8 hours sleep it was time for Frans to get 3 and a half. It was very very cold and hand warmers plus 5 layers were needed. Frans missed all that personal insulation he has lost since last season. This is the third time we have made this passage and on previous occasions despite checking tide times we have encountered hostile seas and currents at the Elbe mouth. The timing of the flood into the river mouth seems unpredictable so we were pleased to have only modest swell and adverse current.
We maintained a good speed with a maximum of 10.8 knots roaring past Cuxhaven in only 23 hours. As it is not allowed to enter the lock under sail we started the engine at the last moment when crossing through the shipping. Despite all Frans' work cleaning out the raw water cooling system the engine would not pick up water and Frans had to manually prime twice to get the engine cooled as a cargo vessel loomed larger towards us. No harm done and we did not get called on the radio again as we had been earlier when we had to overtake a cargo vessel doing only 7.5kts. As we were sailing we could not pass on the inside which was downwind as we would have lost all the wind in the vessel's huge shadow. The pilot on board and was not happy and made radio contact to give us a telling off.
Lock operations went smoothly and we moored up quickly and dashed to the Italian restaurant alongside the small mooring area in Brunsbüttel.
Frans managed to get a ride in as well as the F1 before leaving
Terschelling.
Sunrise in the German Bight, half the crew still asleep.
A Dutch Brigantine outbound on the Elbe.
The don't get much bigger than this.
Pelagia on her own, Br
ü
nsbuttel, Kiel Canal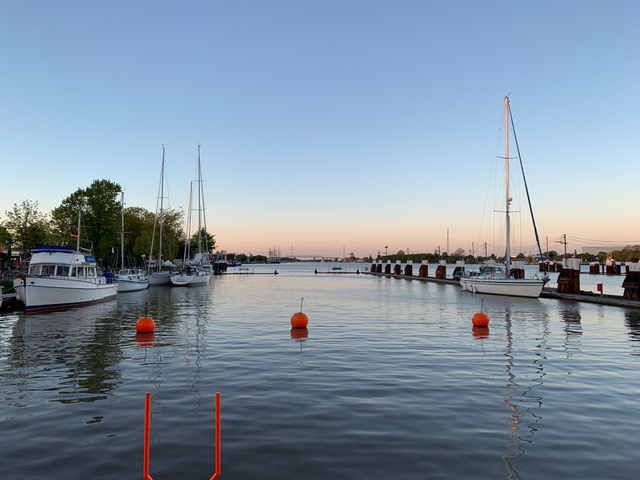 Big one entering the lock awfully close past our mooring.
---