Arrival: Gothenburg's Lilla Bomen city centre guest marina 57:42.713N 011:57.871E

Pelagia
Frans & Sarah Toonen
Fri 1 Aug 2014 17:33
Friday 1 August 2014. Sunny with strong head wind. 6.5 engine hours. 25nm.




Today was spent cruising along the wide and winding Göta Ålv river. Much of the countryside was farmland and forest with only one castle and a few mansions. Today's nature highlight was an osprey.




When we arrived at the busy and small marina we were lucky as a yacht on the outside of the over 40 section (that's 40 foot not 40+ old people) was just setting off so we got moored there bow on with the help of the neighbours and one of our helpers from yesterday who ran around the marina when he saw us coming. The quay was about 5' below the bow so jumping off was not an option.




The marina has a lively atmosphere with bars and restaurants. The 1906 four-masted barque 'Viking' is moored there as a hotel and this adds to the attractions with it's bunting. The main shopping mall of the city is linked to the marina by walkway and the city centre with canals, attractive old shipping headquarters and civic buildings is very pleasant. This maritime metropolis got off to a good start when it was settled by the Dutch in the early 17th century. Many English and Scottish immigrants arrived in the next century when the ship building industry was booming and the Swedish East India Company was flourishing. A replica of one of the ships, 'Götheborg' is moored on the north side of the river following the completion of a silk route trip to Canton in 2007.




We left the many museums and galleries for another day enjoying the city on foot in search of charts for Norway. Provisioned up with Swedish beer from the state monopoly 'System Bolaget' we are off back to Denmark on Saturday.




Osprey nicely showing its wingspan: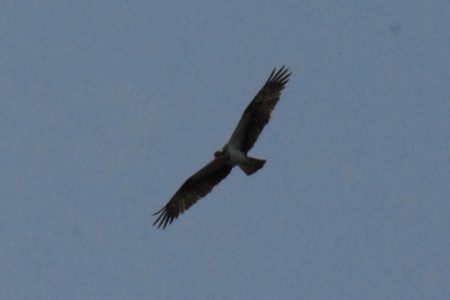 Now showing off its head:
Passing through a nature reserve with 100s of geese, landscape along the riverbank.
We like to drive fast through bridges to reduce waiting time of the road traffic. The bridges and locks are operated centrally by remote control and we got the impression that they knew our "style" and didn't even bother to open this last 17 meter bridge completely… we blasted through keeping left.
Pelagia on the outside in the city marina.
---