Møyhamna, Torget 65:24.865N 012:06.698E

Pelagia
Frans & Sarah Toonen
Mon 27 Jul 2015 19:51
Monday 27th July 2015. 5nm south from last night's Brønnøysund under engine with headwind.




We came to Torget so we could hike up to the famous natural tunnel through the mountain of Torghatten. The tunnel is 160 metres long, 35 metres high and 15-20 metres wide. It is right in the centre of the 260 metre high mountain so it's unusual and quite spectacular. The hike was about 10 miles and the terrain very varied up, down and around the mountain. The coastal plain is farmed in contrast to the rocks and the wild flowers fantastic. Frans starts yawning when I point them out - he's bored with waist high baby pink angelica, scabia and delphiniums along the tracks.




Yesterday we had moved on from Vega the 16.8nm to Brønnøysund to get shelter from the forecast southerlies. We sailed in the N2 and NE4-5 only using 0.6 engine hours. Brønnøysund marina was very full as all the boats were seeking shelter but we squeezed onto the other side of the lifeboat quay and were fine until morning when the Harbour Master moved us to make way for the fishing boat that always parks there on a Monday morning to sell prawns.




Stomach in dude!
Sarah was regretting leaving the long-johns on.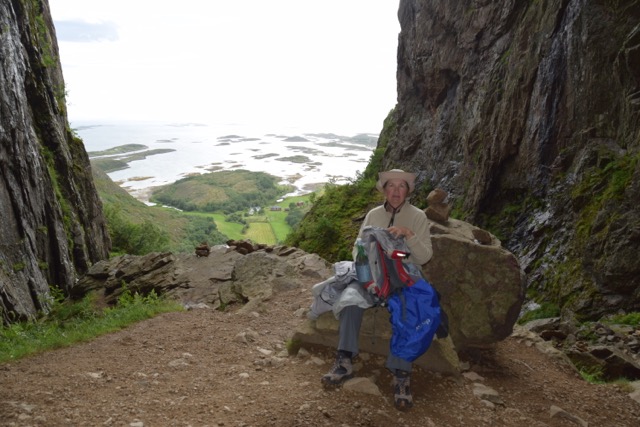 ---