Arrival: Hammerhavn, Bornholm, Denmark 55:16.704N 014:45.337E

Pelagia
Frans & Sarah Toonen
Thu 26 Jun 2014 18:30
Thursday 26 June 2014, Wind ranging from Southerly F2 to Northerly F5. Sunny but threatening storm clouds.

Back towards Denmark but still headed east. Bornholm island is actually off the southeast tip of Sweden but it has belonged to Denmark for most of it's rich history.

We sailed along the south coast of Sweden with the cruising chute up. This was the first time we put the cruising chute up without the "sock". The sock is a sleeve over the chute to help the hoisting and lowering of this big sail, it prevents it from flapping too much or twisting in the wind whilst it's being manhandled. The sock however has given us no end of trouble because it gets stuck a lot. During the regatta at the Contest Cup we took it off as we had plenty of hands to hoist and lower it. Without the sock it is important that the 3 points of attachment are not tangled in the sail so these are tidied together on the top whilst the bulk of the sail is in the locker under the V berth. It went up a treat shielded behind the genoa. Now it's down again we have to sort and re-pack it for next time. It's much longer than the boat so we can't stretch it out indoors but have to go hand over hand sorting it.

Watched amazing clouds forming behind us and all along the coast to the north of us. These developed into storm clouds and we could see the lightening for several hours. We had one squall where the wind gusts went from 0 to 25knots (Force 6) in less than 10 minutes but no rain fell on us. We actually saw the cloud disappear as it shedded its load.




We covered 63 nautical miles today over nearly 14 hours and had intended to seek an anchorage behind Bornholm but the wind was variable and some swell had built up. Having crossed the busy shipping lanes off the southeast tip of Sweden we headed for the tiny harbour of Hammerhavn with no idea of whether we could get in so late.




Early departure, 7am bridge, Falsterbokanal:
Sauna on a float: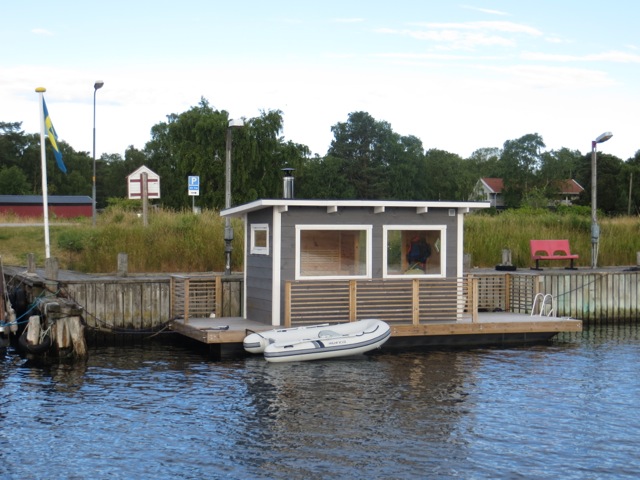 Hammerhavn… lovely!
---