Corpach Basin 56:50.548N 005:07.302W

Pelagia
Frans & Sarah Toonen
Mon 9 Sep 2013 17:53
9 September 2013
A beautiful crisp clear morning again with good views from the boat over Loch Lochy. The ducks appreciated rice cakes for breakfast. Very tranquil chug along to Banavie with amazing views of Ben Nevis in the sunshine and all the scenery reflected in the still water. We set off down Neptune's Staircase (8 locks) with sole occupancy and a large audience of tourists - seems the locks are the only show in town. One tourist was lucky not to be in the lock as he persisted in telling Jonny what to do!
We reached the bottom lock at 1300 and the lock keeper said he would open the lock, road bridge and rail bridge all at the same time, except…..the road barrier would not close so none of these things could happen. He called an engineer from Inverness, it started raining and so we went in to play Scrabble. By 1500 the crew were starving and mutinied by clearing off to the pub leaving Captain with Pelagia. The problems were resolved around 1700 by which time the spectator numbers had reached over 20 to watch Frans bring Pelagia out single handed and swap all the lines and fenders to Port so the motley crew could be collected downstream near the pub.
We celebrated completion of the canal with a bottle of bubbly which Jonny fired over the water, a seagull swooped and promptly ate the cork whole (sorry).
Scenery!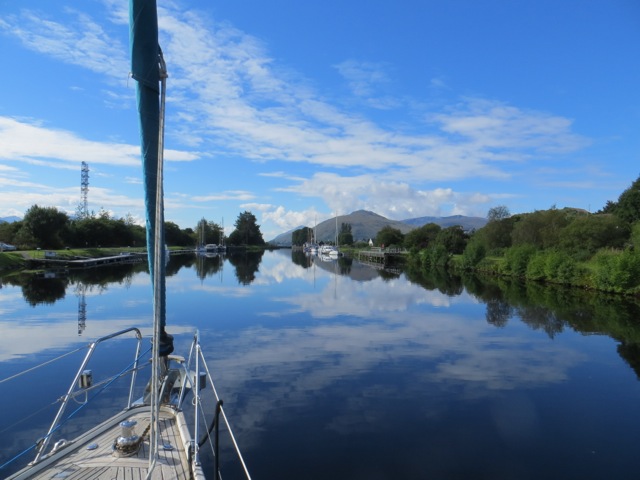 Stuck in the last lock of Neptune's staircase:
---