Håholmen 63:01.716N 007:23.831E

Pelagia
Frans & Sarah Toonen
Sun 14 Jun 2015 11:04
Sunday 14th June 2015. W4, 5 and 6 so never dull. Cold and wet. 50.1nm in 8.75 hours. 1.2 engine hours, very respectable as approach to Håholmen tricky through the skerries.




By Saturday night we had another boat rafted to us and about 10 motor cruisers trapped behind us so it was busy and the pop concert was on again rocking the pontoons. We decided to set off whenever our neighbours moved so this meant 1045 departure. We hadn't been up long as the endless daylight confuses the body clock and our bedtime now is between 12 midnight and 2am kind of weird for 2 oldies who usually nod off long before that.




Our route today was very scenic despite the cold and we were surrounded by snowcapped mountains and cute villages. We followed the Hustadvika route as advised by Helge and reached the area outside the 'Atlantic Road' north of the headland where all the small islands between Hustadvika mainland and Averøy island are joined by low bridges so they can have road access. The direct route north is outside Averøy but as the forecast was W6 with swell we decided to overnight south of Averøy so as to have the choice of continuing outside tomorrow or taking the longer route inside through the only bridge with sufficient headroom.




The tiny island of Håholmen caught our eye in the book as it is a former tiny fishing village restored by the famous explorer Ragnar Thorseth famous for this Arctic and reenactment Viking voyages. There was a ferocious wind blowing us off the pontoon but with the help of a neighbour we were soon secured. The island is now a luxury hotel on the inside but still a traditional fishing village on the outside. We chatted with the young chap who drove the hotel launch and heard it was very quiet with only 4 guests but they had a Wedding for hundreds at the weekend and were fully booked for the upcoming midsummer weekend. Yes folks you can have midsummer when the start of summer is still awaited.




Hurtigrute's daily service between Bergen and Kirkenes.

One north-going and one south-going calling at 34 ports on the 2500 mile trip.
A walk around Håholmen took all of 5 minutes...
…and here's why.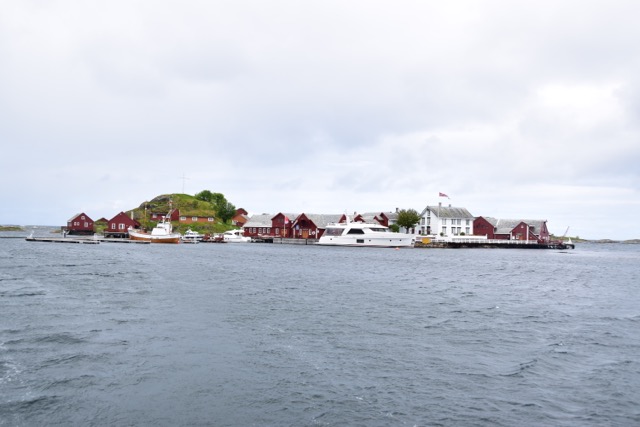 ---