Anchored at Thuro island, Denmark, 55:02.415N 010:41.026E

Pelagia
Frans & Sarah Toonen
Sat 14 Jun 2014 20:37
Saturday 14 June 2014. N4 and reducing to flat calm.




Decided to save on mooring fees and go out of Svendborg to anchor. We had had an enjoyable 2 days on the town wharf and went exploring. On Thursday we biked 16 miles each way to Egeskov Slot (that's Danish for castle) built in 1554 of brick supported on oak piles in a lake - to keep the baddies out. Egeskov is one of the most famous castles in Denmark and there was a lot to see. Got home in time to shop for groceries before a huge dark cloud blackened the sky and a massive thunderstorm ensued.




Friday was sunny and bright (again sorry) so we decided to go to the little island of Tasinge. Sarah took a bus and Frans cycled over the bridge and met up at Valdimars Slot the 1639 manor house built by Christian IV for his son Valdemar. In 1667 it was given to the naval hero Niels Juel and his family still own it. It seems they have kept everything for the last 300 years as it is treasure trove of artefacts. Frans did not visit the house but cycled back to Svendborg as his back hub needed mending. Sarah spent a couple of hours there and particularly enjoyed a visiting exhibition of stuffed birds in the attic where it was possible to see similar species next to each other for comparison. There was also a hugh 'trophy hunter' exhibition with stuffed animals as far as the eye could see. There is a handy steamer from the Slot jetty back to Svendborg…..the Captain was pleased to meet Sarah from Wales as he had spent many years in Milford Haven working on oil tankers in the Irish Sea.




Our anchorage was in a narrow shallow bay and when the wind abated it was flat calm and mirror like in the late evening - still not dark at 10.30.




Traditional house near Svendborg on the Danish riviera.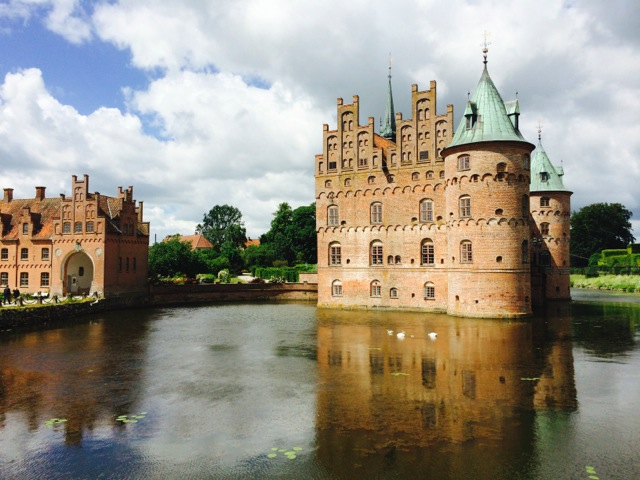 Home bound, a respectable 32 mile roundtrip.
Valdemars Slot, note the built-in church
---