Eastbourne 50:47.483N 000:19.530W

Pelagia
Frans & Sarah Toonen
Sat 29 Apr 2017 19:00
Friday 29 April 2017. Happy 26th Birthday Chris. 295.4nm. N 3-5 all the way from Menai to the Isle of Wight then W3 to Eastbourne. 45.1 engine ours. Passage 73.5 hours - yes 3 nights at sea! Lowest recorded temp 4.8°C! Water temp mostly 11
°C. No rain.
We slipped the mooring buoy without any problems at high water, 0930 Wednesday slack water through the infamous Swellies underneath Menai Bridge and a following tide through the Menai strait. Fabulous views of the snow capped mountains of Snowdonia and the castle at Caernarfon. The tide was on Springs so we had strong currents favourable and against of course. The Lleyn was stunning under a cold sometimes clear sky and we set a course for St Davids head in Pembroke. The military had other plans and radioed to ask us to keep clear of their firing practice in Cardigan Bay so we had to divert west for a while. Despite all her layers Sarah could not keep warm (northerly wind behind us straight into the cockpit) and so we had to run the diesel heater and she hid in the aft cabin. By 0230 the wind had gone and so Frans was able to go to bed at 0515 when the reclusive crew appeared at dawn. And what a dawn it was - clear sky, mill pond calm all across the Bristol channel with around 50 common dolphins for company. They stayed for hours - no photos as camera still packed…....somewhere.
By Thursday evening we were approaching Land's End and the northerly was back. It was a lovely evening and Frans kept close in to enjoy the view. A little too close to Lizard Point where 3 knots against us and lively seas were encountered. The crew appeared at dawn again and this mornings entertainment was 2 Risso dolphins. We have not seen these before. They have a rounded/blunt head with no beak and lots of white on their backs. Quite rare in Cornish waters, they are nearly 4m long. Camera still packed.
Friday night saw good speed with Frans getting 9.5 knots at times along the south coast thanks to the Spring tide. The clear sky brought good visibility of shooting stars, satellites, Mercury and Mars (to go with his bars). Sarah was very disappointed no dolphins had been organised for Saturday morning so all she had to look at was the Rampion Wind Farm being constructed off Worthing. As this is our 3rd visit to Eastbourne Sarah helmed Pelagia towards the narrow entrance. It was low water and there was a strong current (honest) across the harbour entrance. There was an abrupt halt, Pelagia was beached into the sand at the west side of the entrance and although Frans managed to reverse her out we did wonder why we spent time and money anti-fouling the bottom of the keel as no doubt that's all scraped off now.
Sovereign harbour, Eastbourne, is great and we got a lovely position and looked forward to going to Asda and eating in the marina Indian restaurant (in no particular order). The temperature was a good 12 degrees higher than North Wales which was a bonus. On Sunday we had a stroll along the front to town for a slap up breakfast followed by some retail therapy for the crew. This was curtailed (in Marks and Spencer) when Frans called to say come back now - we are off.
Weather systems were building in the English Channel (possible force 8) and in the North Sea north easterlies would set strongly down the Dover Channel from Tuesday for the foreseeable future and prevent us getting to Holland. We had to go or enjoy Eastbourne for up to 10 days.
Entering the Swellies at Menai bridge...
No bouyage through the Swellies, these are the instructions one has to following to avoid the rocks:"From Menai Bridge town, pass centrally under the Menai Bridge and immediately adjust course to starboard to put Swelly Rock buoy ( S.Card. beacon, VQ ( 6 ) + LFl. 10s), fine on the starboard bow. As the boathouse comes abeam, turn parallel to the mainland shore, to pass about midway between and the shore and the buoy. Immediately after passing the buoy ease to starboard to head for the cottage on Gored Coch in order to avoid the promontory off Price Point.Continue on this course until the leading marks on either side of Britannia Bridge come into transit. These are not always easy to see, being open metal pylons about 4m. high, and positioned close to the bridge buttress. They each carry a fixed light normally lit day and night. Change course to follow the transit until abeam of the triangular white beacon on the shore, then turn to pass under the centre span of the bridge. Complete the passage by heading to the starboard side of the Straits to avoid a buoyed area around an historic wreck opposite Nelson's Statue."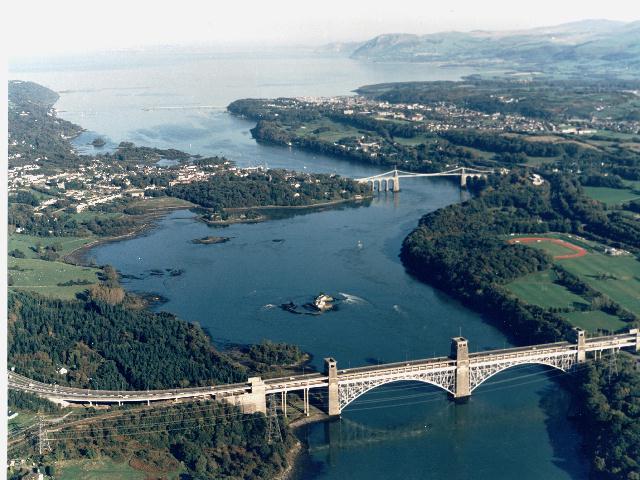 Nelson's Statue …and we're through. Why is there a statue of Nelson?
Snowdonia's snow capped mountains.
Land's End… beautiful!
Sarah's gone to bed and the sun is about to follow suit.
Camara still packed, iPhone shot gives a faint outline of a Risso Dolphin.
The skipper after 3 days at sea.
Moored up in Eastbourne, Sarah was comforted by the lifeboat next to us after this morning's escapade.
---