Lisse, Noord Holland 52:14.921N 004:34.046E

Pelagia
Frans & Sarah Toonen
Sat 6 May 2017 19:00
Saturday 6 May 2017. 35.7nm. Sunny at last. 8.4 engine hours.
Many of the bridges which have to be opened for us have a timetable. With major rail and motorway bridges this may only be a few times a day. We left Dordrecht in time for our first bridge and called up bridge control to say we wanted it lifted. Fine they said. They all have CCTV in any event and so we waited, waited some more, the opening time passed and nothing happened. Before calling control again we realised we were at the wrong bridge having turned the wrong way out of the marina. We were headed east towards Nijmegen rather than north. The big shiny sun blinding us should have been a clue - a fine pair of sailors.
When you transit a canal or river you can see into all the houses and gardens especially as they became narrower and the size/frequency of commercial traffic reduced. This was very interesting and it turns out there are numerous ways to hoist/hang/moor one's boat in the garden. As we neared Lisse we started to see bulb fields in bloom. The stripes of colour are stunning especially when the canal is raised which makes the view better. We had phoned to enquire as to the water depth in Lisse as the book said the marina at the yacht club was too shallow. We booked and Frans spoke to Harbour Mistress Agnes several times and she kept reassuring us that we would be fine. Our spot was not actually in the marina but on the canal bank and the reason it was fine was because we 'stood off' the canal bank to get enough water. Lisse yacht club is lovely. They sell beer, have planted a mini Keukenhof tulip patch and the tasty Chinese is 10 minutes walk.
The bikes were unpacked from their cabin. Sarah's electric bike has it's own berth on the bottom bunk so Pelagia is just 2 cabins now both bikes are on board. We had come to Lisse to go to the Keukenhof and as it would be busy we wanted to go at 8am when it opened. The first day therefore we had a slower start and cycled around the bulb fields ourselves and east to Noordwijk aan Zee which is a smart seaside town surrounded by dunes. As an unexpected bonus we had heard from Jannette & Erik Schumacher a few days earlier and they live in Noordwijk when not flying 747s or sailing/working on their two historic ships. We met Jannette & Erik in Marstal (Denmark) in 2014 when the magnificant 'Janna', their
Dutch Tjalk built in 1898,
berthed near us. We joined them at home for a catch up and a lovely dinner. Cycling home was not without incident when a large St Bernard broke away from it's elderly owners and grabbed Sarah's arm. It was retrieved and then did it again as it clearly wanted to play, no teeth marks just slobber.
At the Keukenhof we were amongst the first visitors of the day and the gardens were stunning. We thoroughly enjoyed our visit but felt a bit sad we don't really have a garden due to all these summer sailing adventures. The variety of bulbs was world class and everywhere was meticulously well kept. The gardeners work all year for the 8 week opening period and usually plant each bed with 3 layers of bulbs so there are always flowers through the 8 weeks.
Dutch polders (reclaimed land).
We're in Holland.
This is the sort of motorway traffic jam we create… feeling slightly guilty.
Sarah's happy!
Sarah's still happy.
Keukenhof.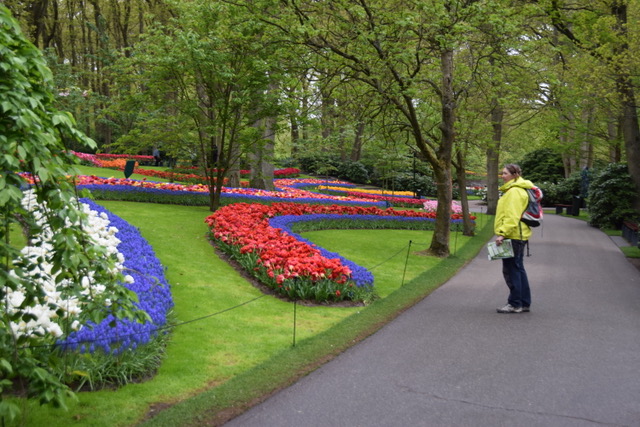 ---