Orth, Fehmar island, Germany. 54:26.635N 011:03.042E

Pelagia
Frans & Sarah Toonen
Tue 21 May 2019 04:58
Tuesday 21 May 2019. Orth, Fehmar island, Germany.
54:26.635N 011:03.042E
Sailing: Beam/broad reach full sail then cruising chute when the wind dropped.
Weather:
Light rain and low/moderate visibility. Northerly F3.
Westerly winds are arriving (at last) tomorrow and so we made our way east to be in a good starting position for sailing to Sweden. Departing at 5am so that (hopefully) Sarah would still be asleep during the fog Frans carried out his first box departure single handed. To avoid being blow onto a neighbour the upwind bow shore line and the stern line to the pole need to be released in sequence and someone needs to reverse and turn the boat. Multi-tasking indeed.
Making use of the light northerly we sailed east as far as the firing range permitted. This stretches from the east side of the Kieler Bucht all along the coast close to Fehmar island and all traffic has to go around the 3 sides of the range to move east. Military vessels stand 'guard' each side to ensure this happens and use VHF radio to contact offenders. Presumably if the boat had no VHF they would use military methods instead.
The cruising chute got an outing and Frans got up close with it to untangle a 'wrap'.
Orth harbour was very busy but we got a box then some chips, coffee and cake so all was well. A walk in the rain and mist followed as we headed to the nearest shop. Having taken a scenic route we had done 7 miles when we reached the shop only to discover the wallet was still onboard. Phew, ApplePay on Frans's phone was accepted. What a relief and the 30 euro limit on that kept the weight of the groceries bearable. No beer to carry these days is an advantage not just health wise.
Yeah yeah very funny!
Entry to Orth
This muppet walked 7 miles to the shops only to forget his wallet!!! Apple Pay saved the day.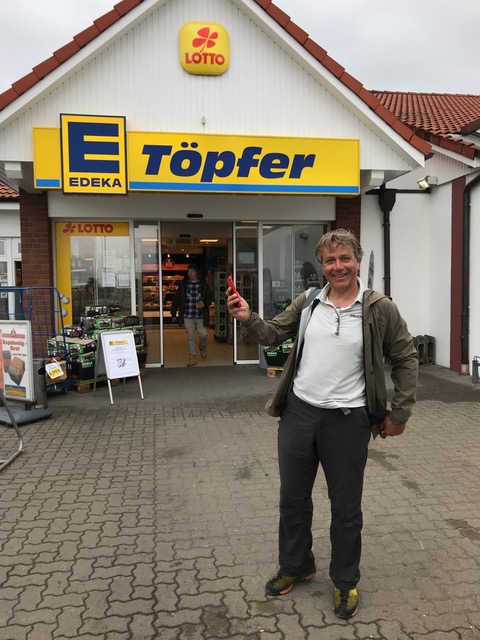 Orth is nice little tourist town.
We moored up next to the Bismarck
---