Augustenborg, Als 54:56.601N 009:52.283E

Pelagia
Frans & Sarah Toonen
Thu 1 Jun 2017 19:00
Thursday 1st June 2017. 31.3nm. 1.9 engine hours. WNW and NW4/5.
A bright cold morning as the reducing westerly blow chased us back down the Flensburg inlet and towards Denmark. The new crew required gloves, hats and blankets for the passage due to the tail wind but it warmed up as we reached the narrow channel (sund) between the mainland of Jutland and the island of Als. We were seeking rural tranquility after the bustle and sirens of Flemsburg and we found it in Augustenborg at the end of a very narrow buoyed channel lined with trees and tiny sandy beaches. We were under a massive silo where there was very little activity (except for the nesting swallows) but we have learnt that every Danish village has a massive silo, purpose unknown. The boxes were as usual too small for us and with all the hammerheads taken we had to raft to a yacht of similar size 'Louise'. She was very sleek , well equipped and appeared to have just completed a major refurbishment. All the cleats were below a sturdy gunwale and so following selection criteria of 'age before beauty' Janice made a mighty leap onto Louise to secure our lines as Frans helmed Pelagia into position and maintained the position despite the wind.
We had seen in our marina guide (in Danish and German) a symbol for 'Grille im wald' and we were excited to see if this really meant 'Grill in the wild' so we arrived in Augustenborg armed with cabbage, meat, wine and charcoal. Our Danish did not let us down and there was a charming BBQ area with sheltered seating so we were able to cook on charcoal both nights. The camera suffered a fatal fall onto concrete and so we apologise to readers for the reduced picture quality henceforth. The tiny marina has repair facilities and a heated shed for over-wintering. Judging by the number of Dutch, German and even British yachts and cars it seems a popular option with foreigners.
We fully explored the village (one mini-mart, one baker and no cafes) in 10 minutes flat and so we ventured further the next day to the 'slot' (Danish Castle) we could see on the chart. Although we were unable to find a way inside we enjoyed the park and woods. The trees were very tall and majestic although there was some ash die-back here as well. The castle grounds were along the estuary and so there were tiny beaches and a municipal 'beach' where a deck had been constructed over the water along with a swimming pontoon and changing huts. After our walk the ladies baked in the sun on board and were entertained by the swallows. Frans took a siesta as the evening Canasta contests and highlife with our visitors is wearing him out.
Departing Flensburg.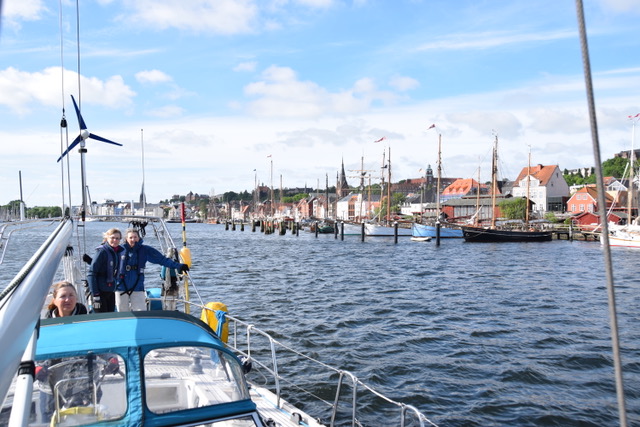 "Grille Im Wald" with plenty of German sausages and wine.
Sleepy Augustenborg
Big trees are hard to photograph so you can compare them to us!
---