The 2nd last photographic installment

The Adventures of the Good Ship Equinox
Cate and Chris Galloway
Fri 11 Sep 2009 10:28
Today's photographic installment is easier to commentate... Chris proudly displays the bow roller manufactured on board by chopping up one of Cates best cutting boards. I wonder if it still survives?
There is a happy family shot taken 2nd September on Bagaman Island and a three amigos proudly wearing crew T-shirts on the night of September 3rd in Misima Harbour.
It is worth noting that the sailing canoe is the Lousiades form of public transport. The locals travel many miles on these with no safety gear, no radio communication and no need for an EPIRB sometimes in difficult conditions and totally at the mercy of the weather. The owners are amazing sailors and these will hold many passengers.
Until tomorrow….from the no longer bearded ex stowaway who wishes he was still there. Cheers Allan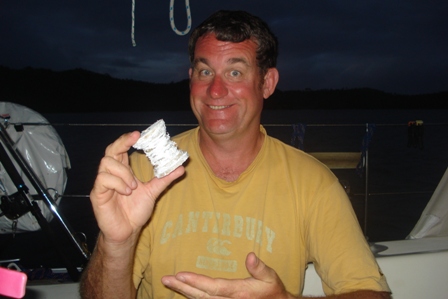 ---