BVI Regatta
Purple Mist
Skipper: Kate Cope
Sun 2 Apr 2023 10:43
BVI Regatta

These regattas are non stop hardly time to even post pictures on Facebook or write blogs. Anyway we have had some good results with a 3rd from 7 in Round the Island of Tortola, a 4th from 8 in a predominantly upwind race to Scrub Island. We are now into the 3 day regatta sections and have a 2nd and 2x3rd from 4 boats. So far each race has had a slightly different group of boats but our main competitors are both relatively local - a very well sailed J105 from Curaçao and a J109 from Martinique = French = always good. They both were at St Maarten and beat us every race. We've managed to beat the J109 a few times now which shows progress. Yesterday we got the boat going really well upwind and we were matching the J105 on speed and sailing higher which was very satisfying.


We have an extra incentive to do well as Sam our bowman/tactician has said if we are on the podium by Sunday he will wear a Purple Mist dress. He has also added if we are first he will wear it "kilt style" ie no pants on. We did mention this to the J105 crew who said for beers they could be persuaded to let us win !!! All great fun.


Thursday night the boat skippers were invited to a reception at Government house where we met the BVI Governor…a very nice Scottish man called John. The BVI are British and have the same status as places as Gibraltar and the Falkland Islands.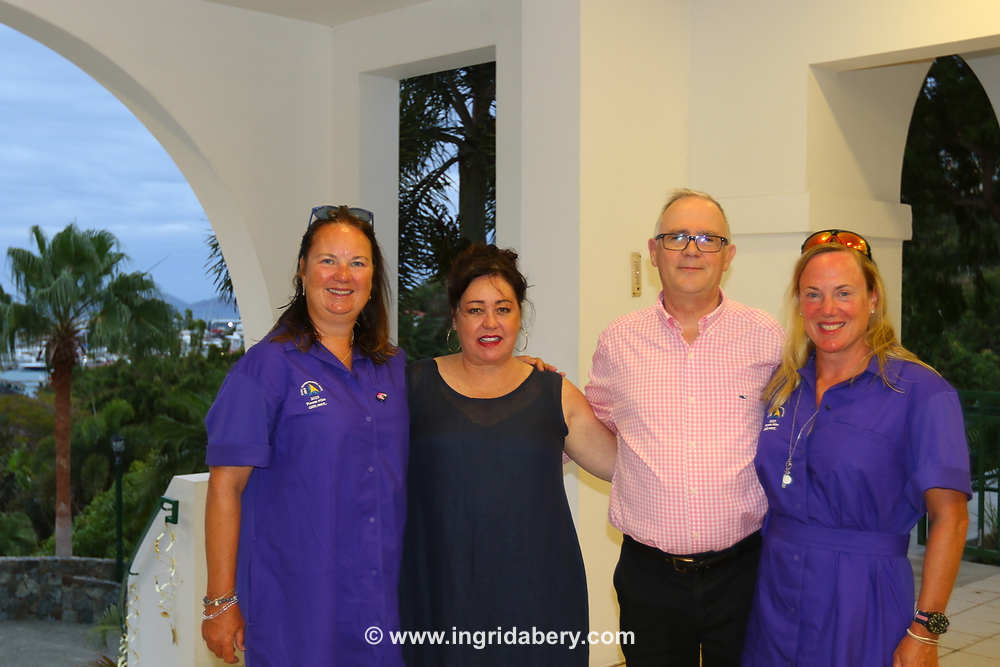 Purple Mist has had a a few breakages. Two days ago we managed to tear the A5 spinnaker after a tangle. We still don't know how it happened but the sheet went completely through the sail. I've hopefully fixed it with the magical Dr Sails and some spare spinnaker cloth. The reef 1 Dyneema line exploded yesterday and finally my mid Atlantic bolt rope glue repair gave up. We found a very efficient local sail loft to quickly repair the bolt rope.



Today the gremlin in the electronics came back with my new Nemesis mast display failing to show data. It's quite tricky sailing downwind in 22kts when you are not sure of the wind angle. Anyway I replaced the cable which had a bent terminal and was corroded and the gremlin was banished and the display fixed.
The final excitement yesterday was either a broach or a chines gybe we are not sure which. Anyway the rudders lost grip during a gybe in 20kts and the boat ended up on her side. I was steering and ended on the low side with half my body under water. The horseshoe and danbuoy on the back rail was sufficiently under water that it triggered the auto inflate . Imagine the scene we had a kite flying almost horizontally from the top of the mast as the sheets had pulled out and we are towing 2 bright yellow inflatables. Anyway all was recovered and no lasting damage done. We only missed 2nd place by 2 minutes as well.
---